Cocktail Herb Garden Kit with Plants - Goody
The complete Cocktail Herb Garden. Both your plant collection and customized garden kit will ship for free direct to your door.
Drinks inspired by the garden are the focus of cocktail trends in 2021, and having a cocktail garden always at the ready, will make you the focus of every gathering. With Gardenuity, we make having a fresh garden of herbs simple and seamless for the experienced and novice gardener.
Having a garden of fresh herbs on your patio, porch, or balcony will quickly become your go to for every beverage, including cocktails and mocktails.  If you have a location outside that receives five or more hours of daily sun, your garden is positioned for lush growth. The Cocktail Garden comes with everything you need for a complete, healthy garden of herbs. We are all about gardening success, and a cocktail garden is a fun way to get started.

The Cocktail Garden includes:


Portable & reusable 5 gallon grow bag embroidered with "Cocktail Garden"
4-6 Fully rooted Cocktail inspired herbs matched to your location and season
Foundation Compost (1 gallon) 
Coir - expands to 3-4 gallons of total growing media
Soil Primer
Micro Nutrients
PH Toner
30-day & 60-day feeding
Seasonal Grow Pro Membership

Gardenuity is a modern way to experience the joys of gardening and the I Grew That feeling. Its a way to engage you in fresh culinary ideas that you might not have tried had you not grown them yourself.

Customer Reviews:

5 stars! Had an awesome experience.  My wife and I went to a cocktail and gardening class.  It was fun and educational. The bartenders taught us some great cocktail tips and we planted our first plants.  Been enjoying the sage and rosemary in some different drinks over the past few weeks. A great night out! -Robert, TX
Your Cocktail Garden includes a season of Grow Pro membership. Grow Pro offers a world of benefits designed to make your gardening experience better. You will receive weather alerts to tell you if you need to move your garden inside and interesting ways to enjoy your fresh harvests - recipes, harvesting tips and more. 
Garden Weather Alerts
Harvest Guidance
On-Call support from a Grow Pro expert
Seasonal Recipes
Watering tips
Wellness Advice
View full details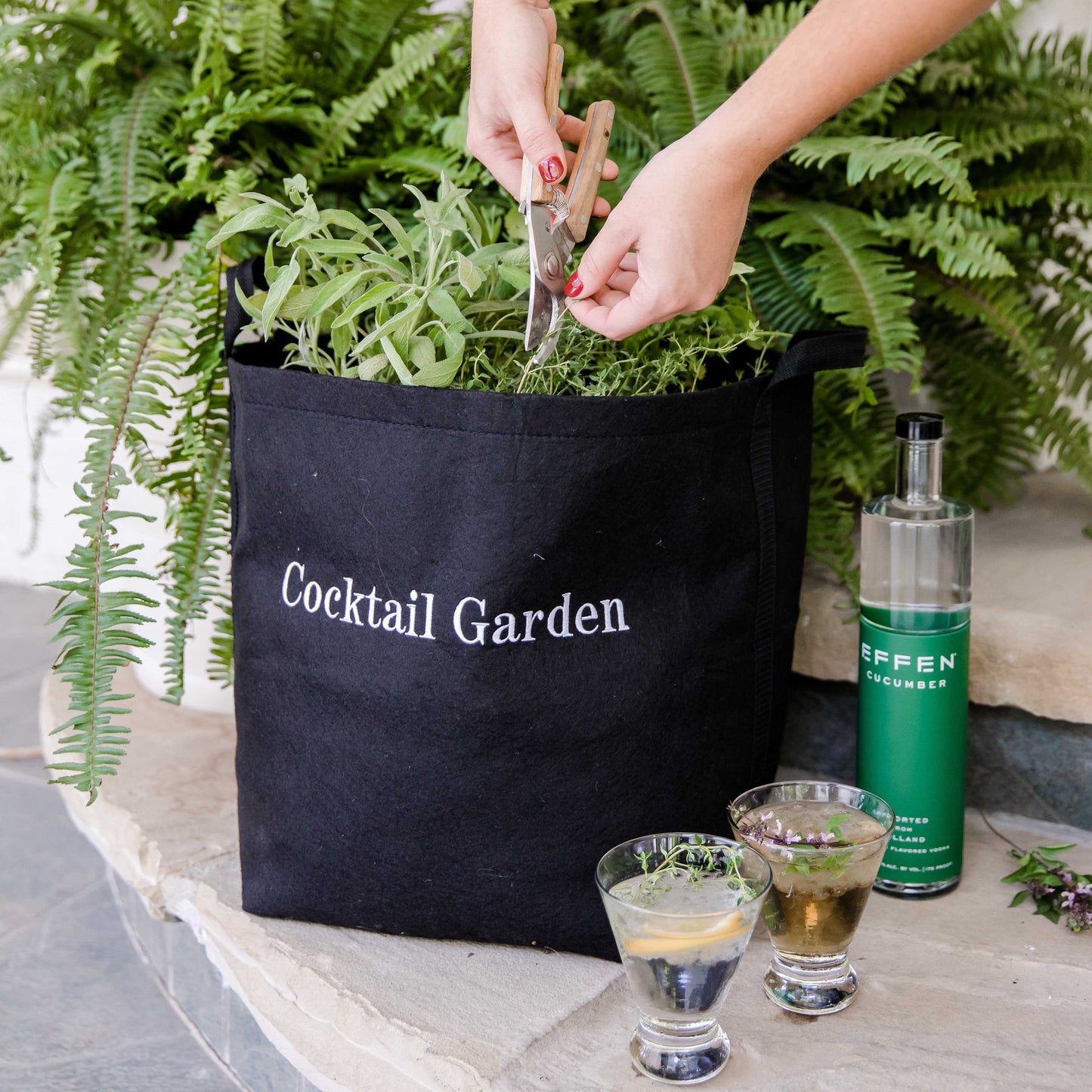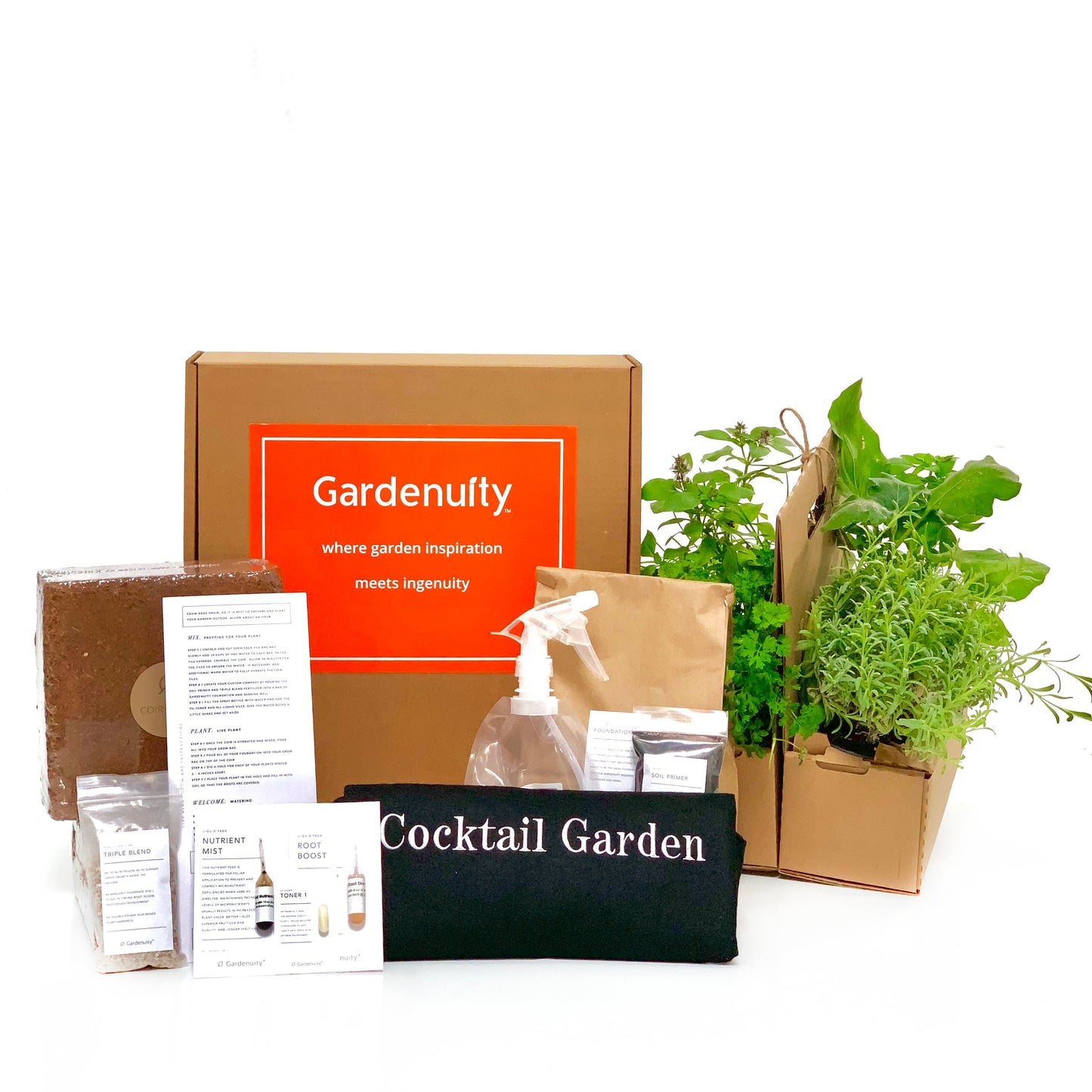 How it works
Take the Match Quiz to discover gardens matched to you and choose your favorite

Hand-packed with care and delivered directly to your door

Set up your garden with the provided instructions + have fun getting a little dirty

Get ready to enjoy all of your Grow Pro perks!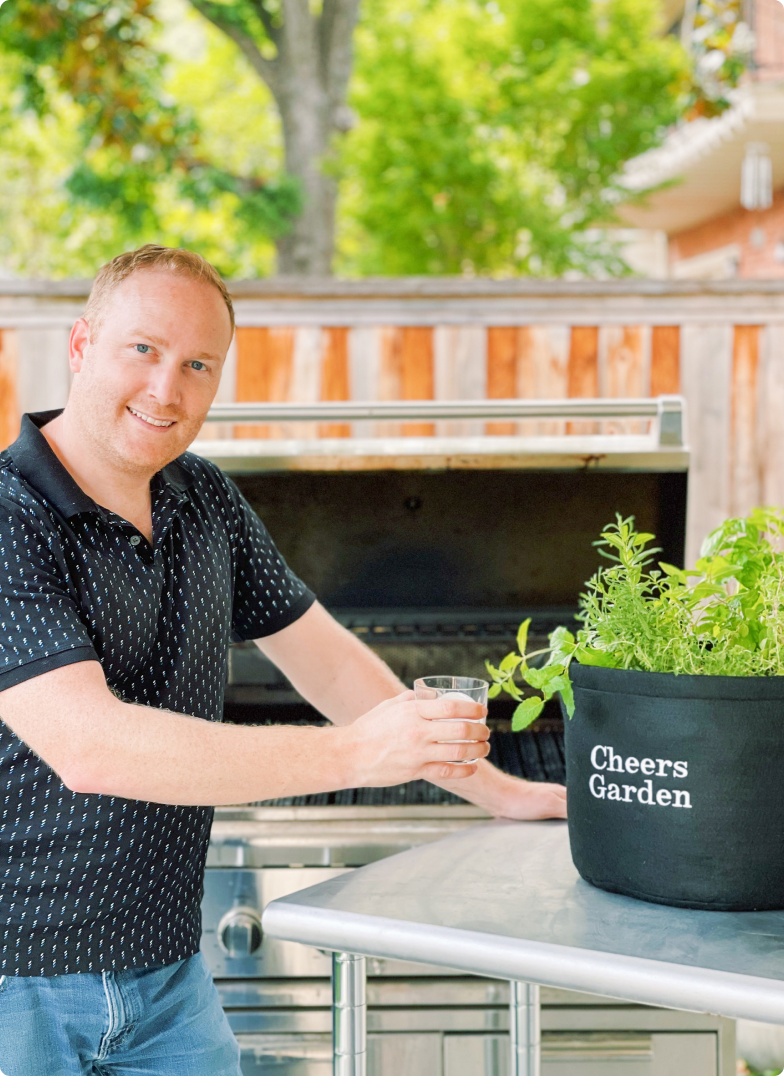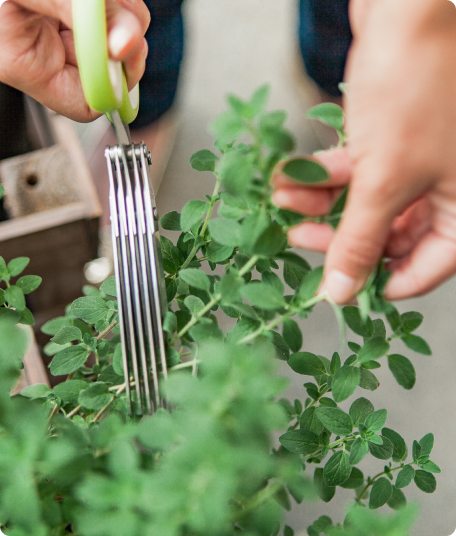 Get matched with the perfect plants just for you
Gardenuity's Match® Technology
Our Match® Technology customizes each garden to your location so you and your plants will have the perfect growing experience. We match you with a collection of plants based on the current season, your forecasted weather, the plants' needs, and the garden's location. Our patent-pending Match Technology takes the guesswork out of growing, so each experience grows success.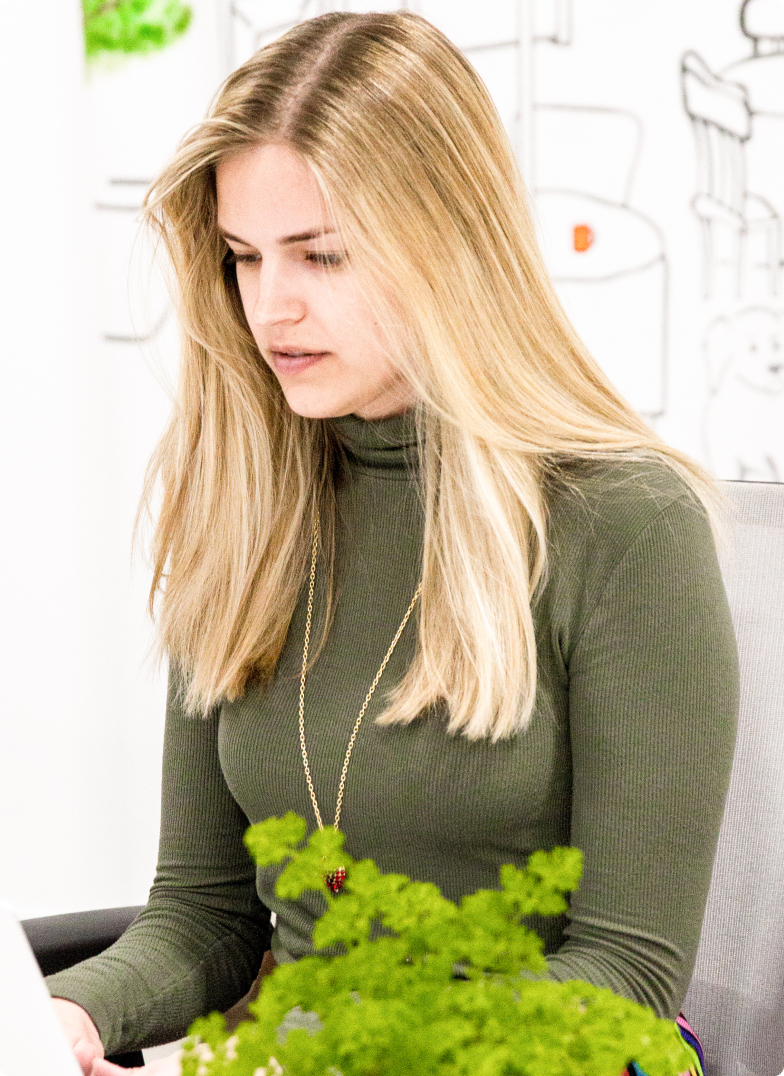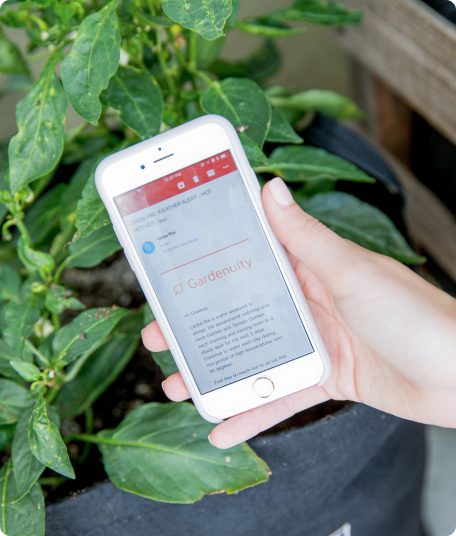 Grow Pro® Support
When you grow with Gardenuity, you have full access to Grow Pro® and the Gardenuity Community. Our team of Grow Pro experts are available to answer your questions and make your growing experience seamless.
On-Call Support from our Grow Pro Experts
Harvest Help
Weather Alerts
Watering Tips
Wellness Inspiration
Seasonal Recipes
... and more!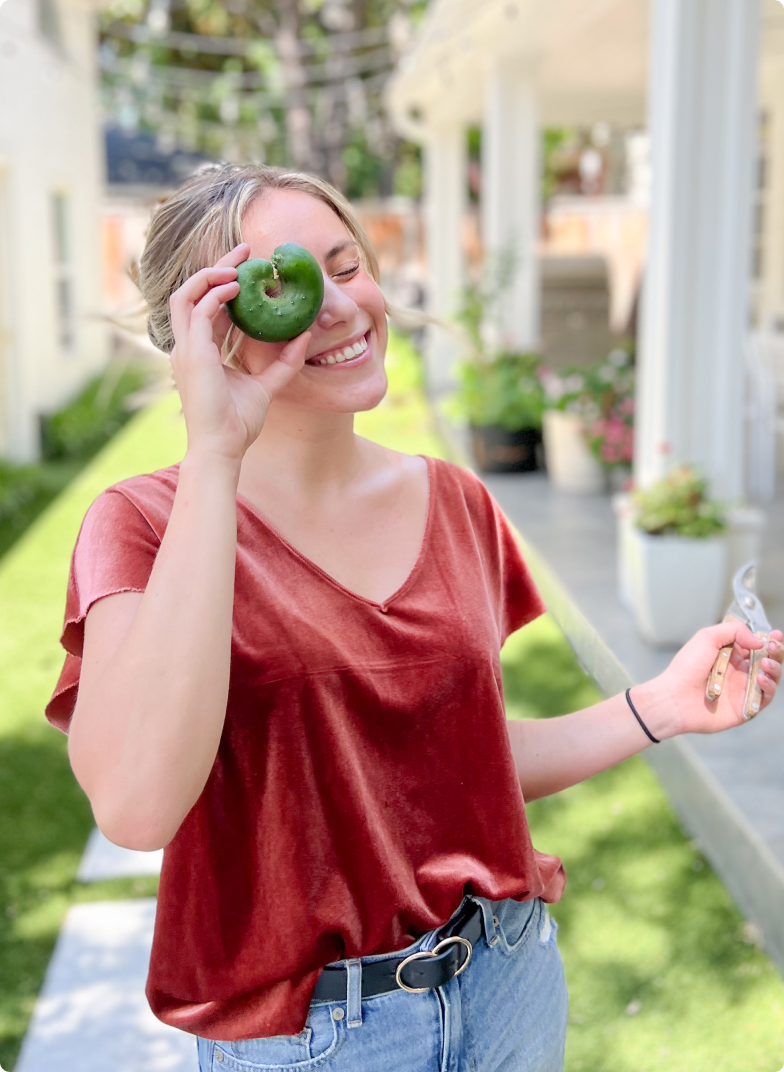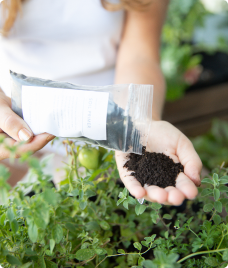 Gardenuity: the better way to grow
Garden Kit + Plant Collection matched to your geolocation
Grow Pro Experts to help you harvest results you deserve
Made Sustainably - No excess waste for you or the planet
Suitable for all ages and experience levels
Get growing, guaranteed
Join thousands of happy growers