Marbled Lilac Swirl Waxed Amaryllis Bulb, Sovereign Bloom - Goody
Regular price
Sale price
$32.00 USD
Unit price
per
Sale
Sold out
Oversized, colorful and self-sustaining, our wax-dipped Spring Amaryllis bulbs require no planting, watering, or care. Each oversized bulb is guaranteed to bloom.
The perfect gift for Mother's Day, Teachers, or a spring birthday, this wax dipped, oversized Amaryllis bulb is the ideal way to add some style to your desktop, tabletop, and countertop. It blooms a beautiful bright shade of orange.  
The perfect gift for colleagues, co-workers, family, and friends this spring. The oversized amaryllis will typically produce between 8 and 12 blooms.
Blooms within 4-6 weeks on average.
The no water wax amaryllis bulb is dipped in wax and self-contained. No water or care is required for this beautiful bulb to bloom. Each bulb is shipped from cool storage and within a few weeks of arriving, it will begin to bloom. Each bulb will produce one or two flower stalks with 4-6 blooms per stalk.
One Wax Dipped Amaryllis Bulb - color of wax in Marbled Lilac Swirl
Bloom appears in 4-6 weeks - flower bloom color a shade of orange
Each bulb will produce one or two flower stalks with up to four blooms per stalk
Self-contained, no care, water or work needed
The bulbs are grown on a farm in Peru and then finished in wax in the USA
All moisture and nutrients are inside the bulbs
4 x 4 dia. pre-bloom
Do not plant
Do not remove wax from outside of the bulb
Share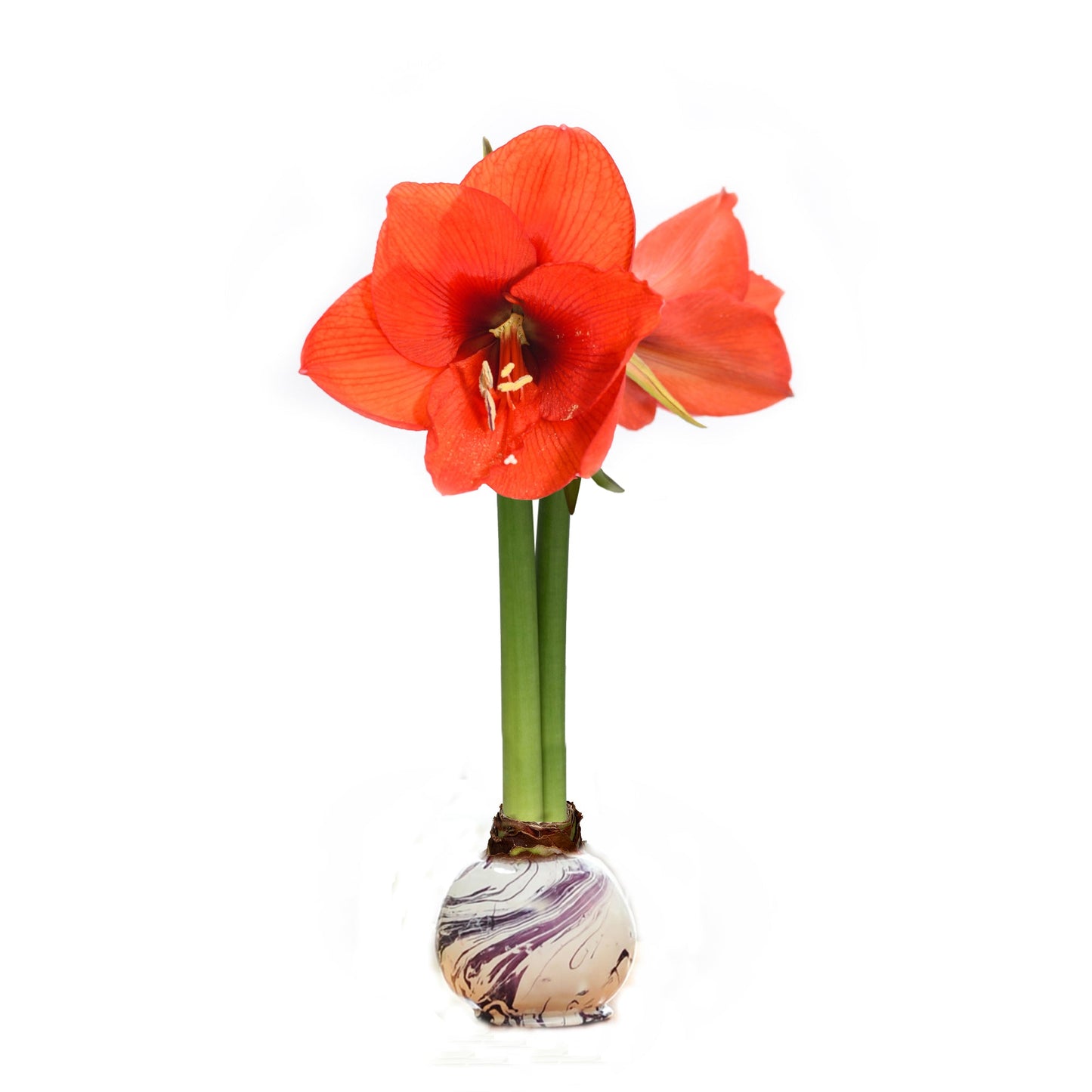 Free Shipping

Free shipping on orders over $75 per recipient address. All orders are carefully hand-packed for safe travel.

Get Growing Guarantee

We guarantee your plants will arrive happy and ready to grow! If they don't, we will replace them for free.