Grow Joy Amaryllis Desktop Plant
The Grow Joy Amaryllis Desktop Plant comes fully planted in our engraved Grow Joy cement planter with custom soil that provides the flower with all the nutrients it needs to thrive. The amaryllis are believed to represent pride, strength, and determination. These South African flowers present giant blooms, with flowers spanning 6-10 inches across. Our double-blooming Amaryllis Desktop Plant will add joy to any home or office! 
Average bloom size is 7-8"

Low maintenance, oversized flowers
PLANT

Pink or Alfresco Amaryllis Bulb from South Africa

BLOOM COLOR

Light Pink or Bright White

PLANTER SIZE

Approx. 5 x 5 x 5 inches

GROW PRO

Watering reminders, wellness inspiration, plant care guides, on-call support, and more!
View full details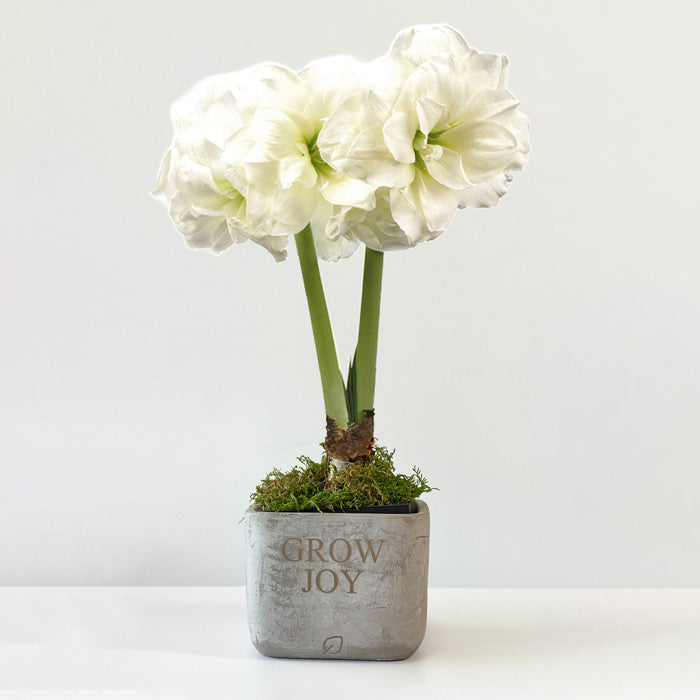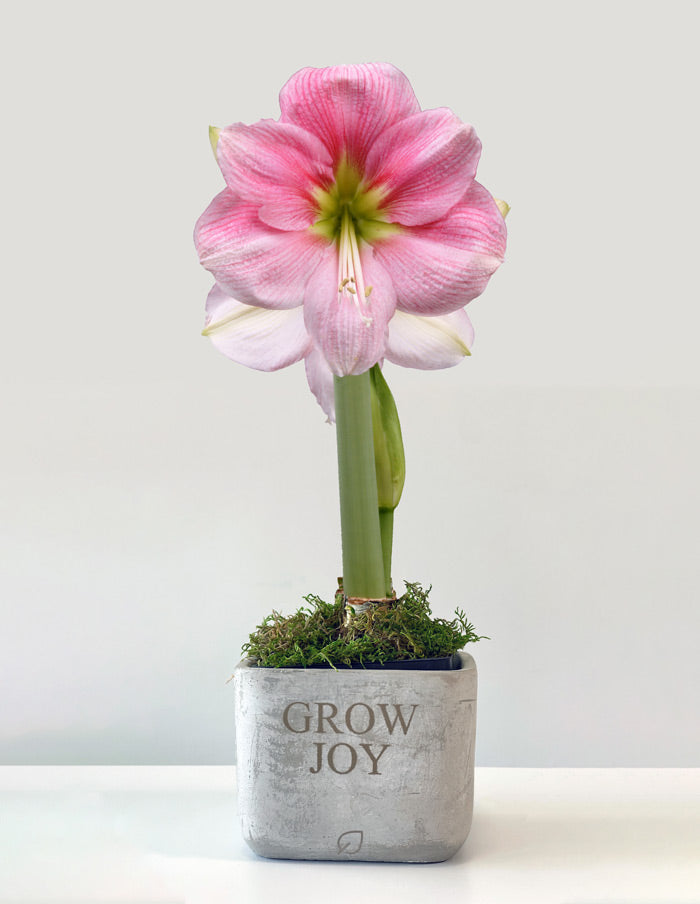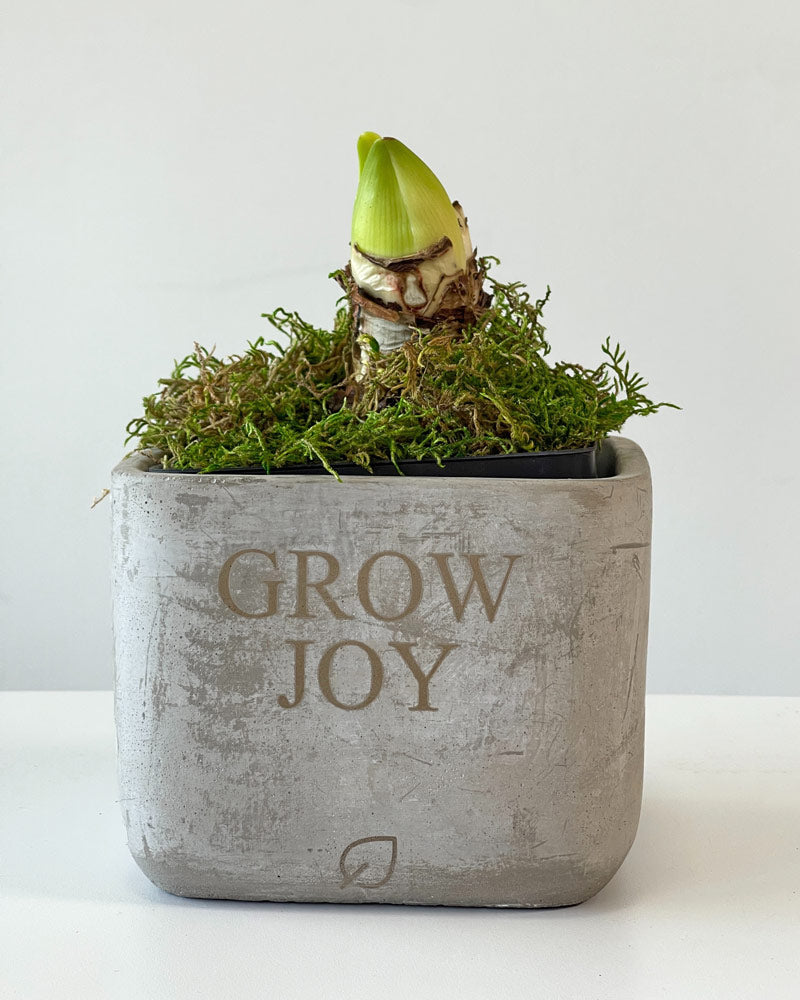 Let's get down to the
nitty-gritty
The Grow Joy Amaryllis Desktop Plant comes fully planted in our signature cement planter engraved with the phrase "Grow Joy". This low maintenance indoor flower only needs a little nurturing, water, and indirect sunshine! Growing up to 12+ inches in height, each bulb usually produces 2-3 stems with 5-8 flowers per stem and takes on average 6-8 weeks to bloom.

The Amaryllis has long been considered an ideal indoor flower and we think it is the perfect desktop accessory.This low maintenance, beautiful plant is fun to watch grow and serves as a reminder that we will all keep growing through the year (no matter how hectic some days may be). 

Your Grow Joy Amaryllis Desktop Plant will arrive fully planted in custom soil and our signature engraved cement planter. 

Your desktop plant will include:

Engraved Cement Planter – A reusable cement planter engraved with the phrase "Grow Joy"; includes planter insert and tray. This planter is approximately 5" x 5" x 5".

An Amaryllis Bulb with pink or white blooms – This South African flower makes a beautiful indoor desktop plant. The plants are sourced from one of our family-owned farm partners and come with the Gardenuity Get Growing Guarantee.

Foundation – The Gardenuity Foundation is custom blended seasonal compost, full of nutrients for your plant(s) to thrive.

WATERING: When the soil feels dry to the touch water the soil, not the bulb (approximately ¼ cup per week). When the bloom appears, your amaryllis will need more frequent watering, up to 2-3 times per week.

SUNLIGHT: Place your Amaryllis in a bright room, but not in direct sunlight and not directly in any drafts. Rotate the planter every few days to help keep the stems growing straight.

TEMPERATURE: Once the amaryllis is in full bloom, keep it at a cool room temperature with bright, indirect light. Amaryllis prefer temperatures in the range of 60-70 degrees F.

We guarantee that your plants will arrive healthy, happy, and ready to get growing! If your plants are not thriving upon arrival or have an issue within the first 7 days of delivery, contact Gardenuity so we can have a replacement plant sent to you. Simply email GrowPro@Gardenuity.com with a picture of your plant and your order number.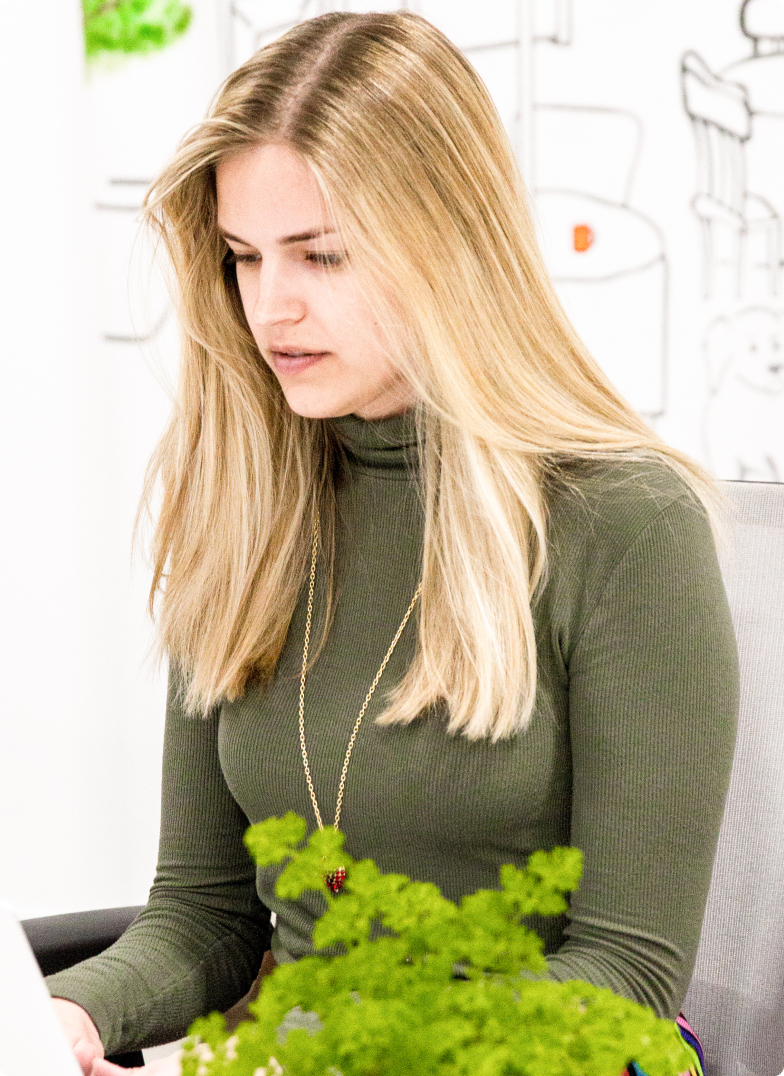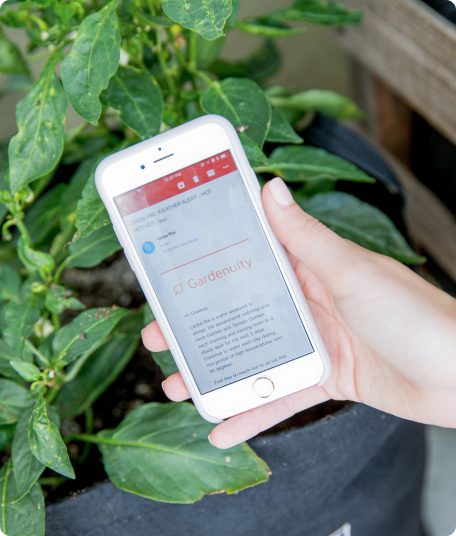 Grow Pro® Support
When you grow with Gardenuity, you have full access to Grow Pro® and the Gardenuity Community. Our team of Grow Pro experts are available to answer your questions and make your growing experience seamless.
On-Call Support from our Grow Pro Experts
Harvest Help
Weather Alerts
Watering Tips
Wellness Inspiration
Seasonal Recipes
... and more!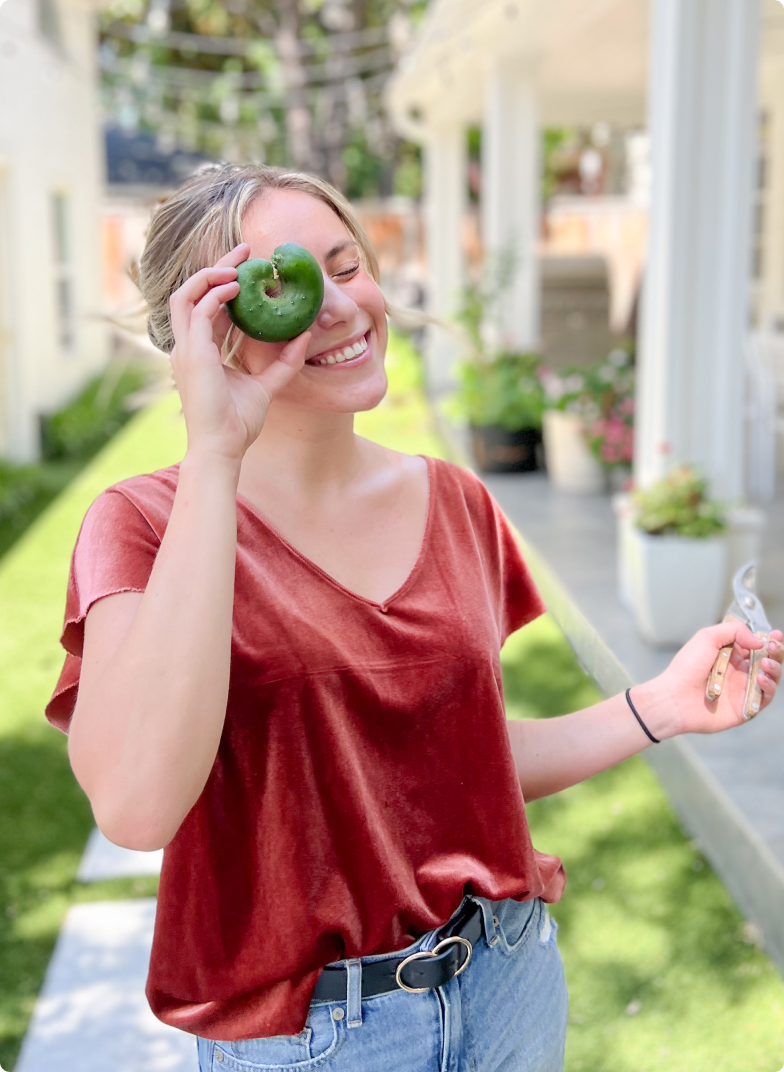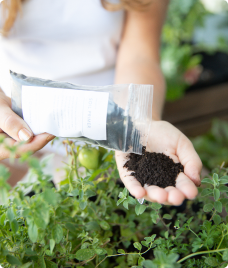 Gardenuity: the better way to grow
Garden Kit + Plant Collection matched to your geolocation
Grow Pro Experts to help you harvest results you deserve
Made Sustainably - No excess waste for you or the planet
Suitable for all ages and experience levels
Get growing, guaranteed
Join thousands of happy growers