Pink Tropical Desktop Garden
The Pink Tropical Desktop Garden is a lovely and colorful accessory for any indoor space! Each kit includes a collection of tropical plants that all have a hint of pink, which elicits the feelings of tranquility, positivity, and warmth. This indoor garden works in low light, making it an ideal way to add some color and nature to any home or office.
Set up your garden in just 10 minutes!

Includes pretty pink tropical plants

Kit comes with instructions + care guide
*Plants may vary from the images based on freshness & seasonal availability.
SIZE

Both planter options are approx. 5 x 5 x 5 inches

PLANTS

3 Tropical Pink Plants*

SUNLIGHT

Needs 4-5 hours of indirect natural light per day

THE KIT

Planter, Tropical Foundation, Plant Nutrients, Mister Spray Bottle, Decorative Moss, Planting + Care Instructions

GROW PRO

Watering + feeding reminders, wellness inspiration, plant care guides, on-call support and more
View full details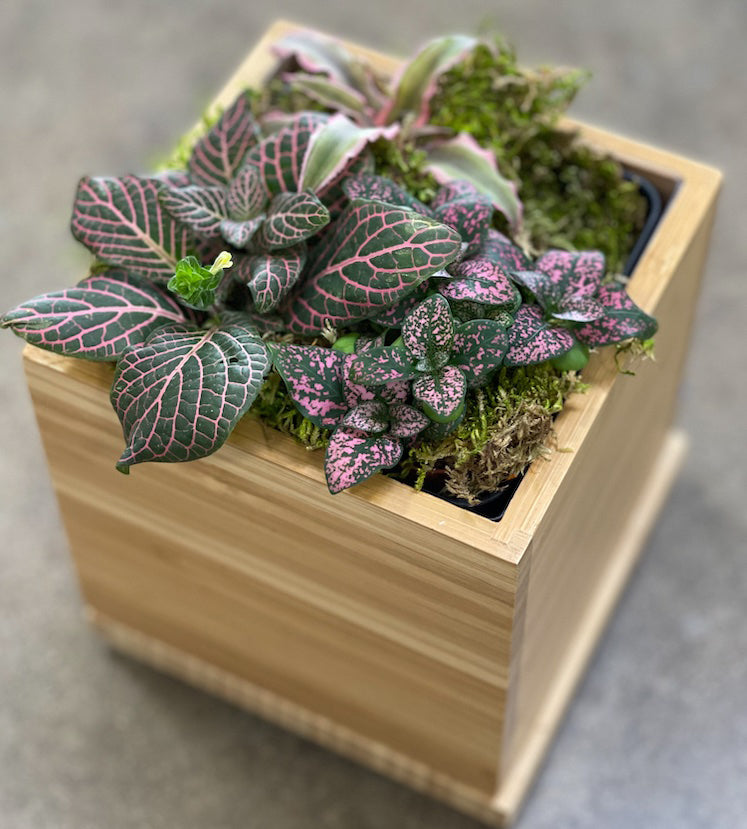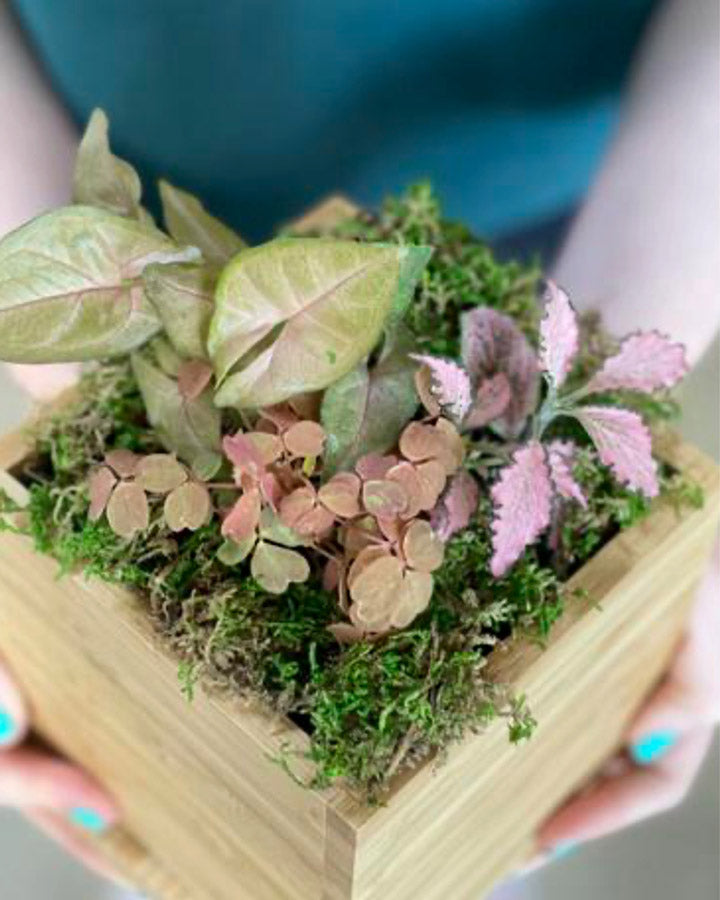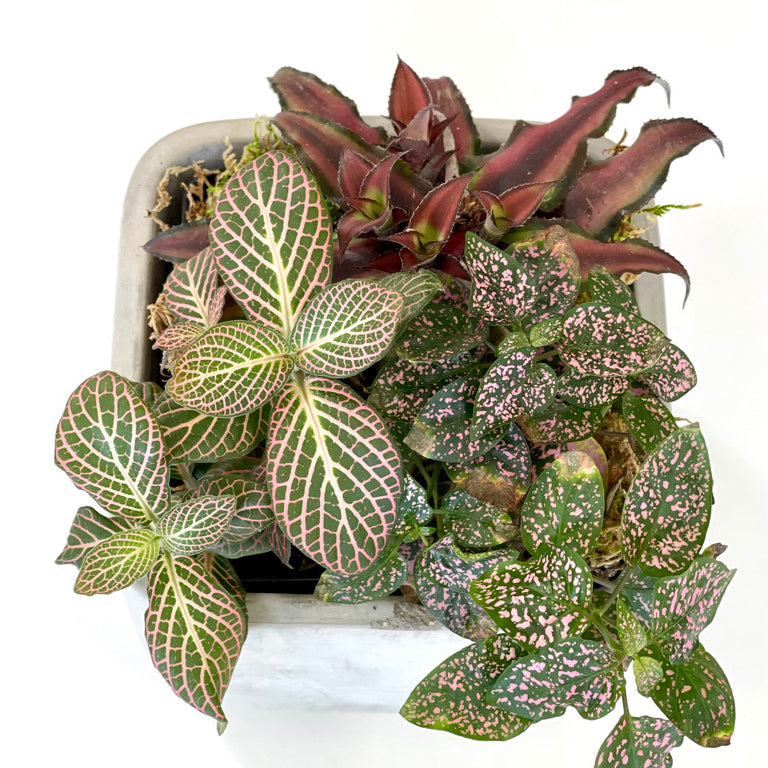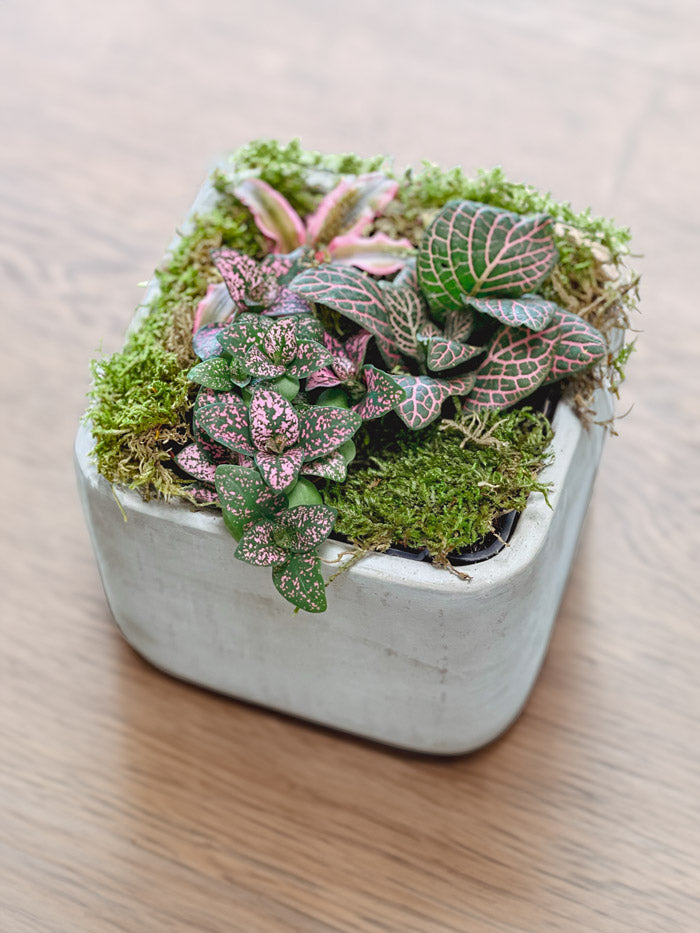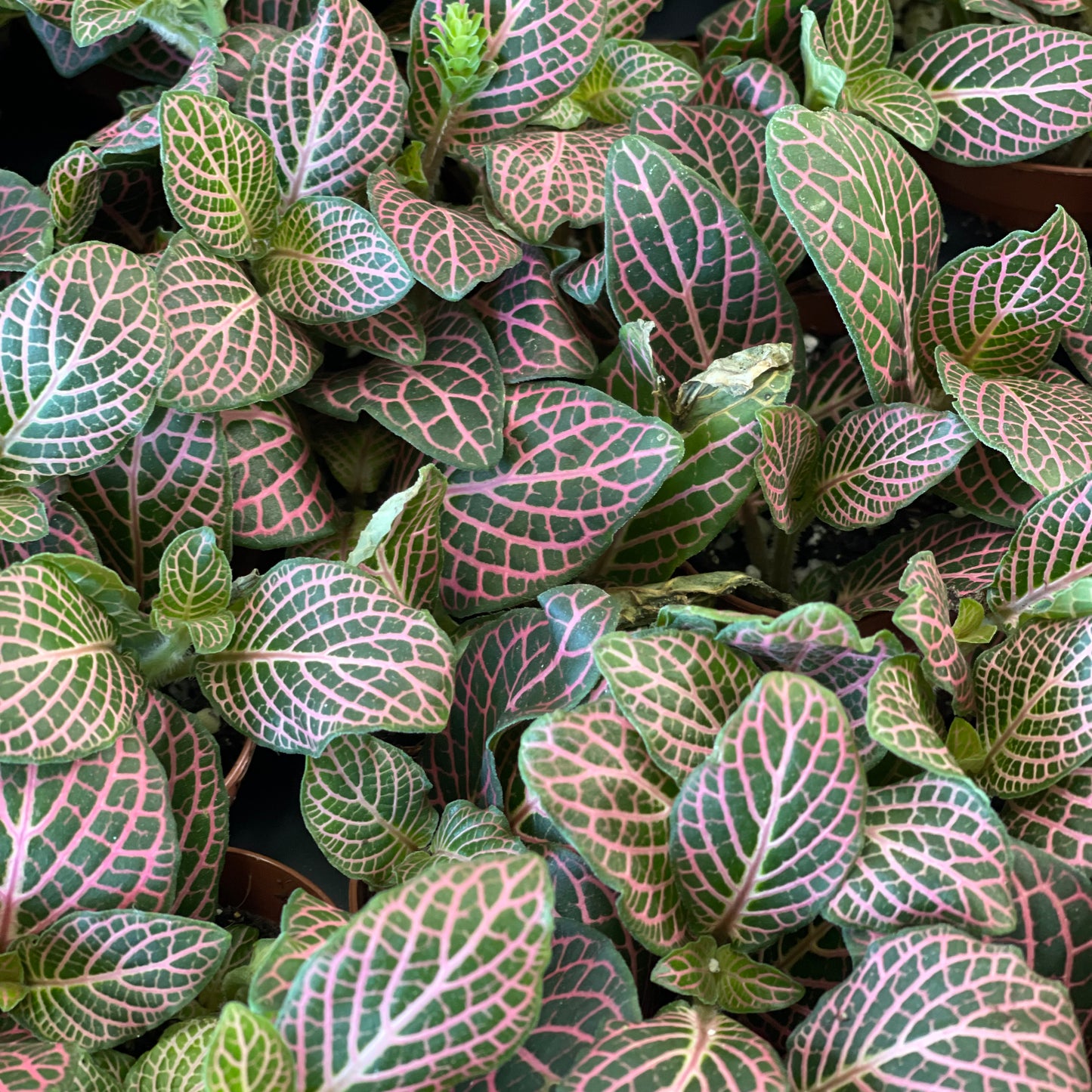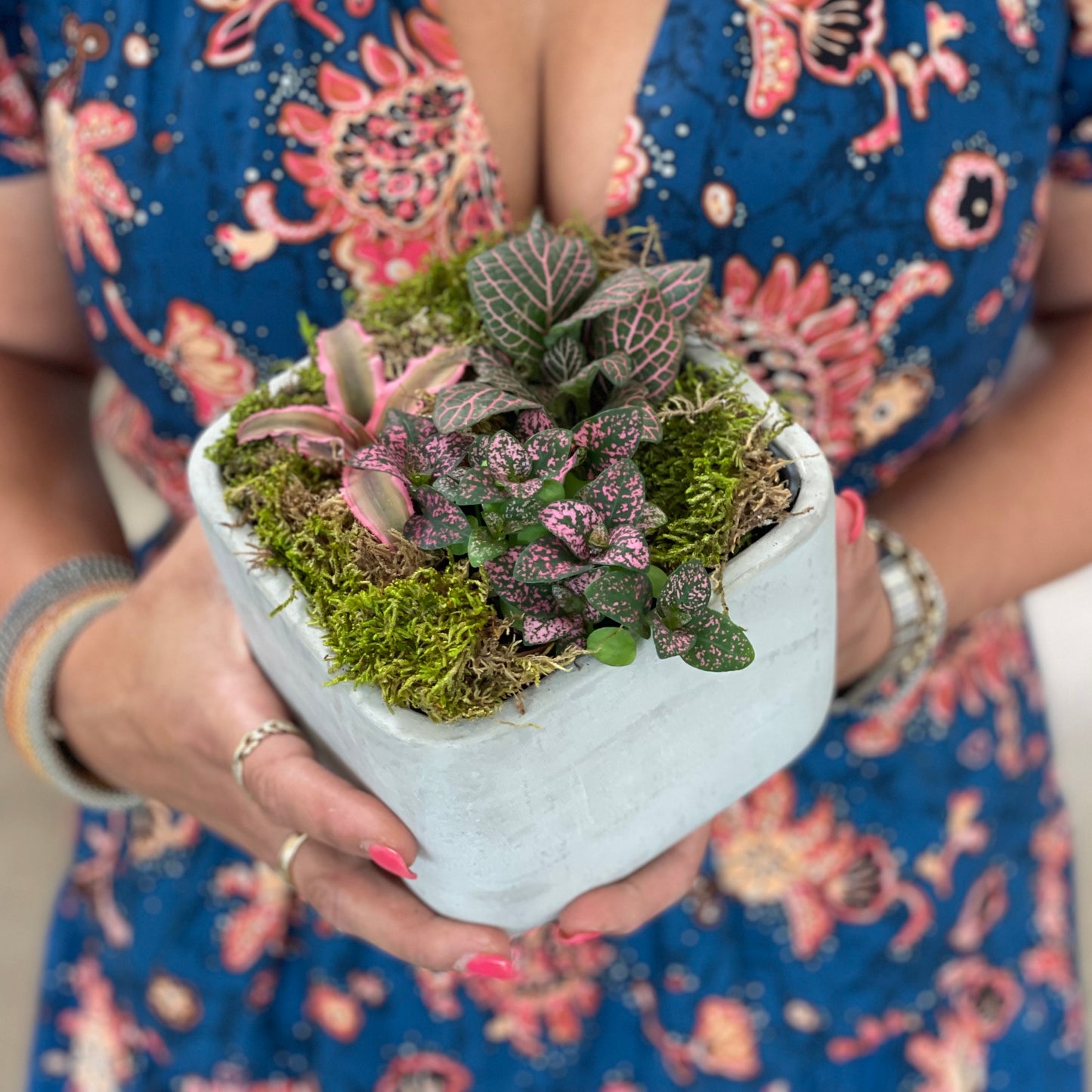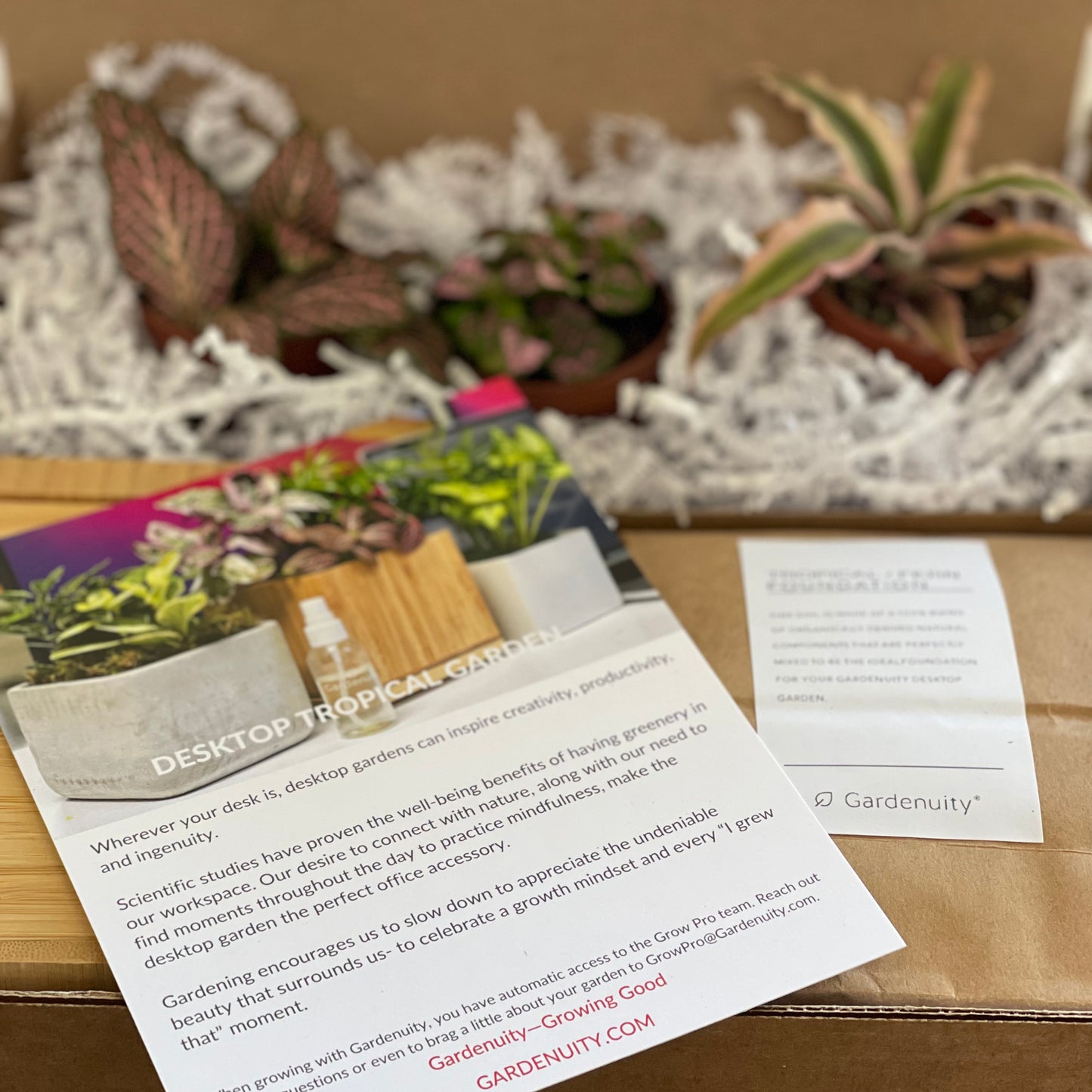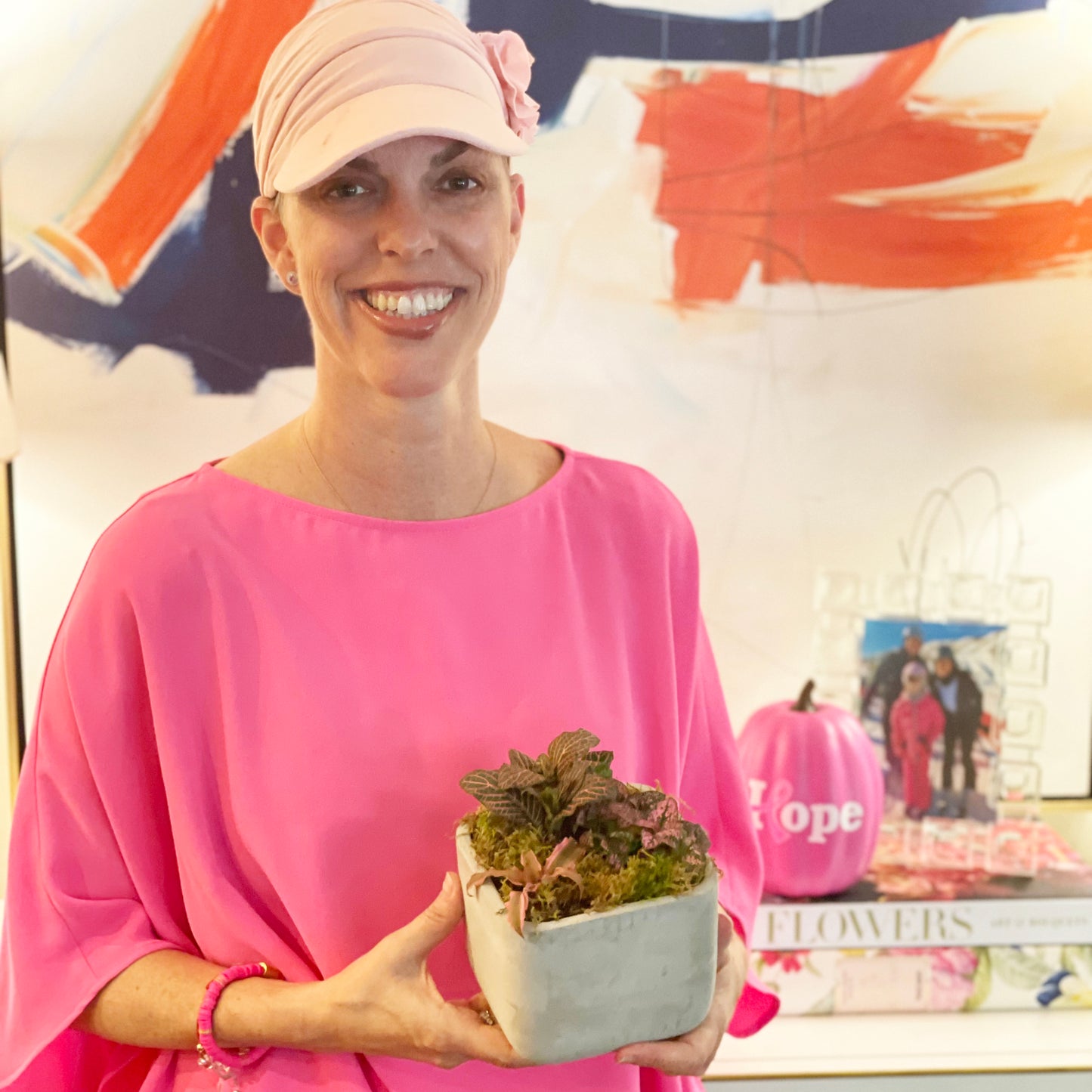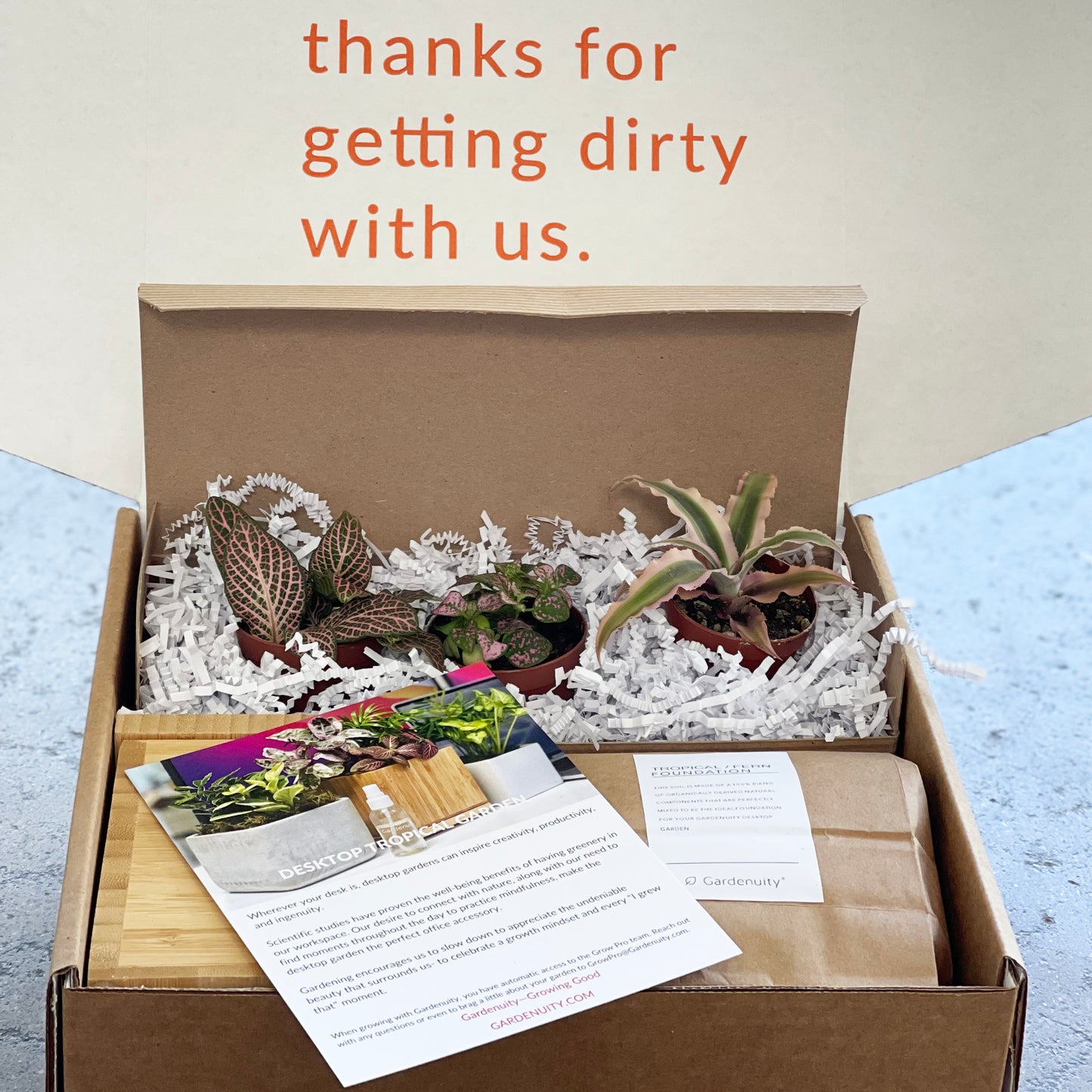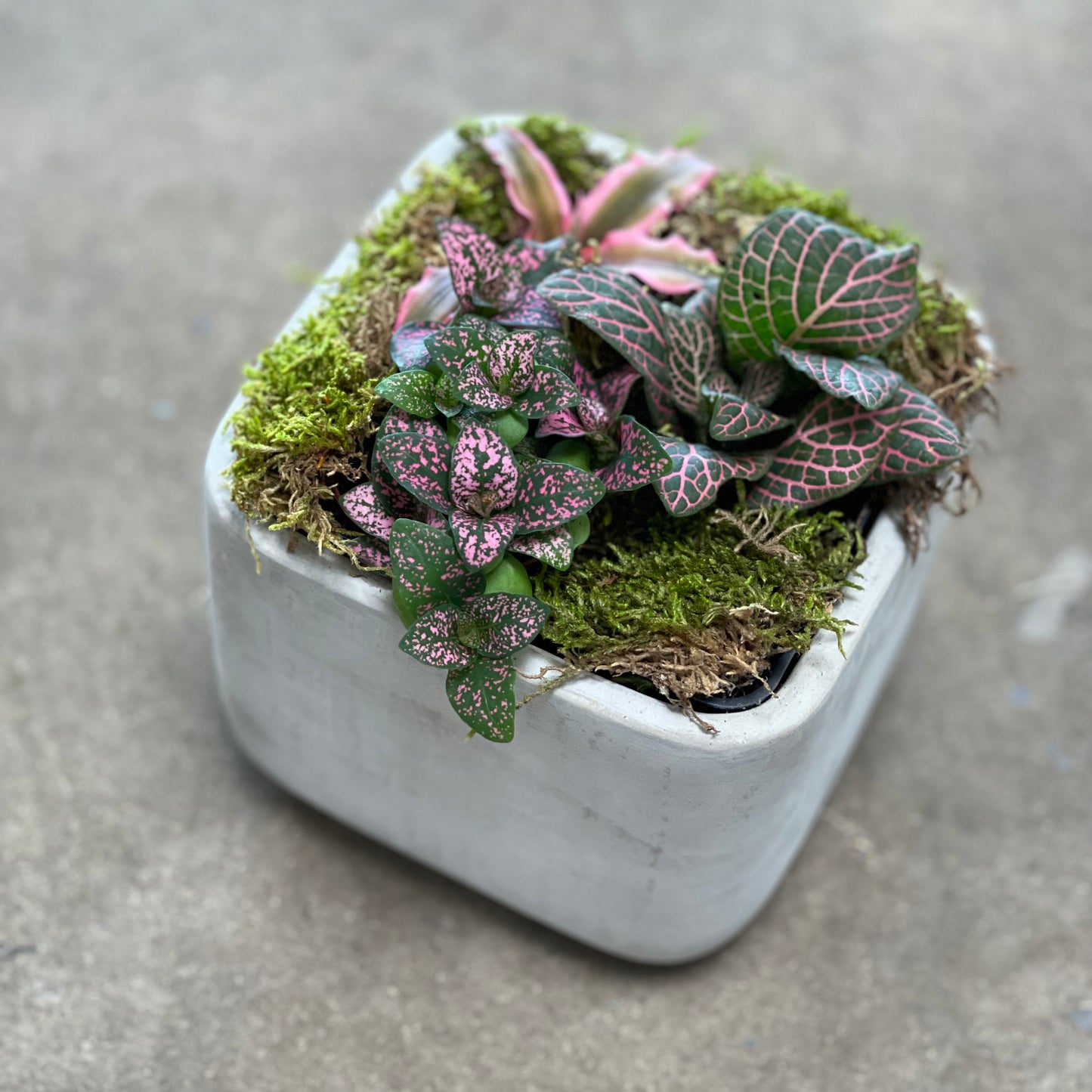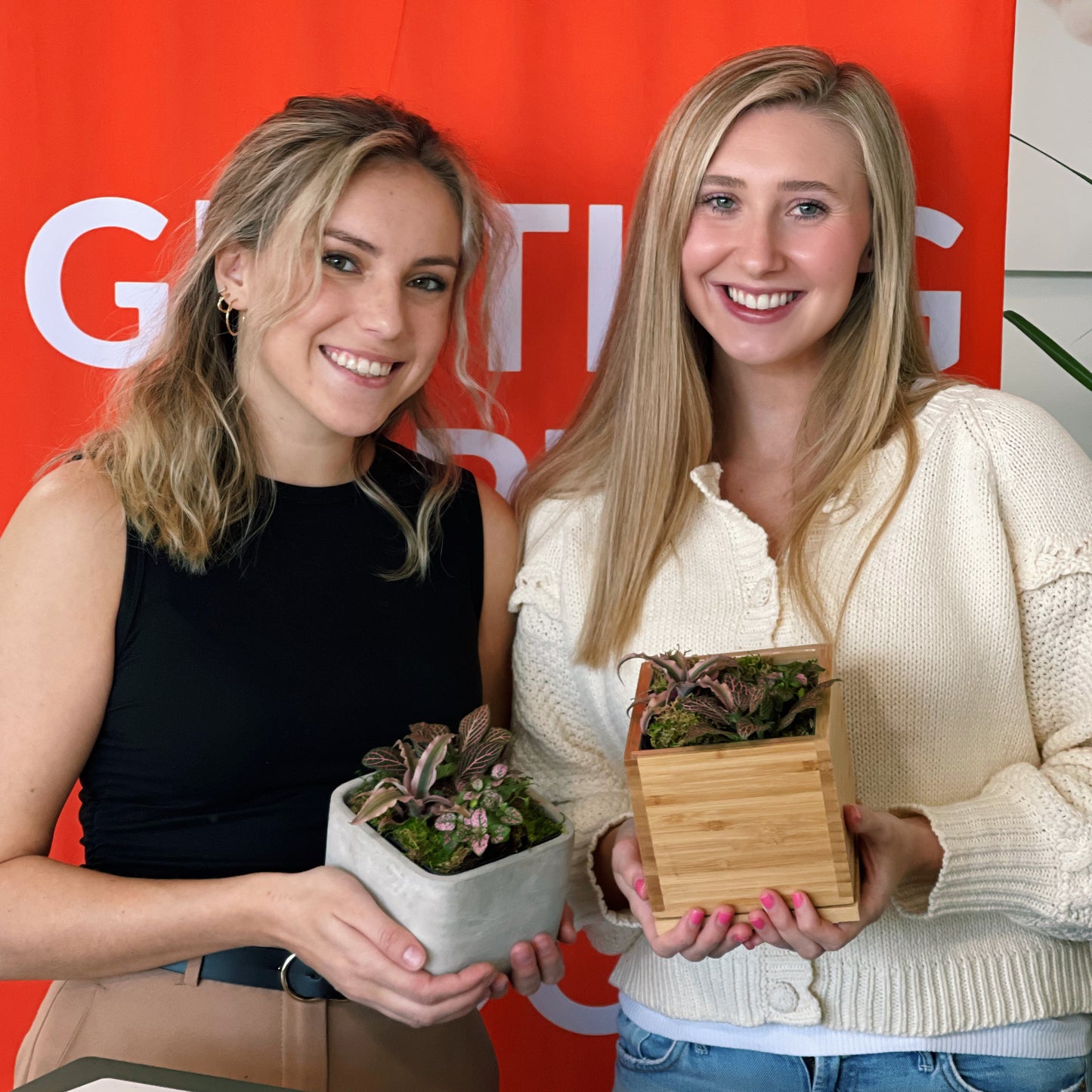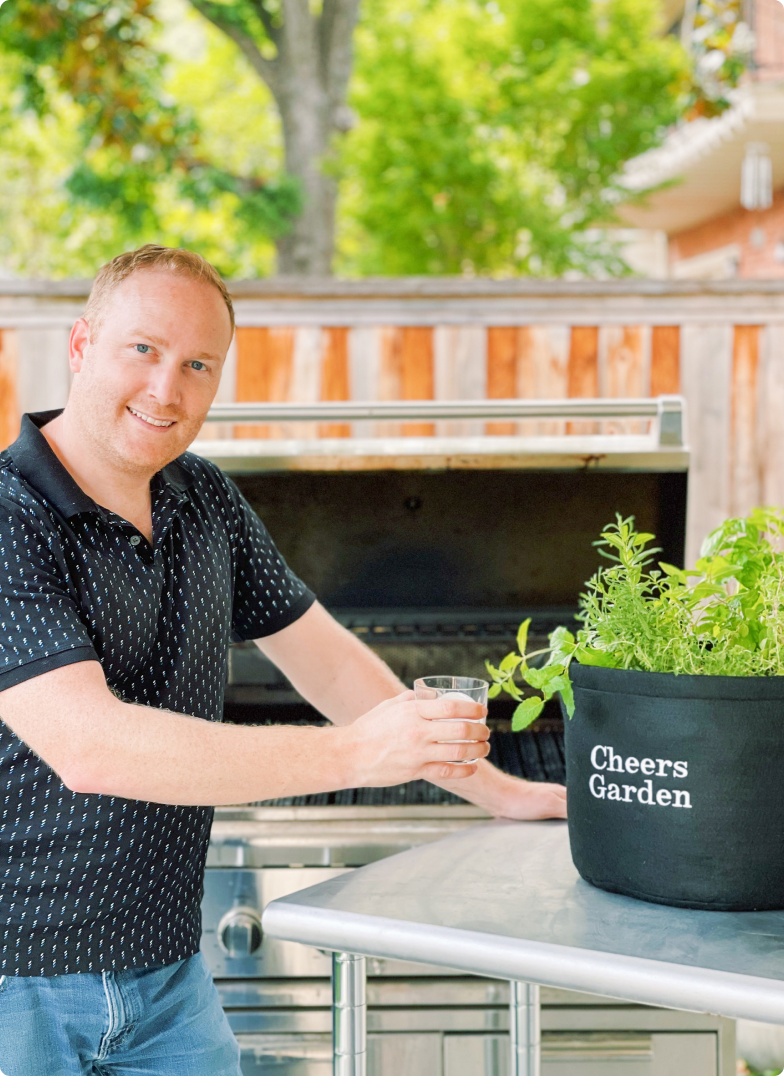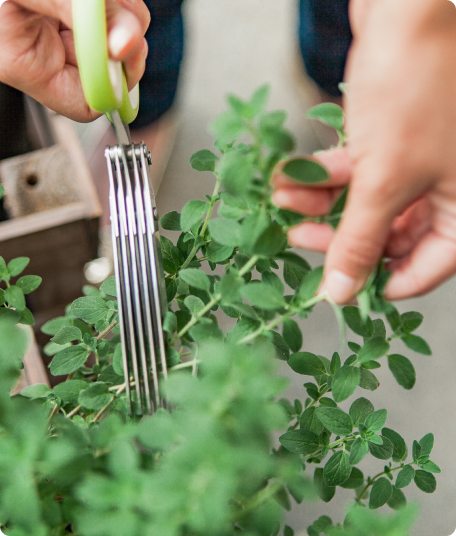 Get matched with the perfect plants just for you
Gardenuity's Match® Technology
Our Match® Technology customizes each garden to your location so you and your plants will have the perfect growing experience. We match you with a collection of plants based on the current season, your forecasted weather, the plants' needs, and the garden's location. Our patent-pending Match Technology takes the guesswork out of growing, so each experience grows success.
Let's get down to the
nitty-gritty
Our Pink Tropical Desktop Garden can evoke a genuine sense of happiness and contentment. The color pink comes through in the tropical plant collection and carries a multitude of positive connotations such as warmth, playfulness, and serenity. So when the pink hues of the tropical plants combine with the beauty and tranquility of a desktop garden, it creates an environment that can bring joy to our every day.

The color pink has long been associated with nurturing and love. This connection to nature's beauty allows our minds to immerse ourselves in the soothing world of the garden.

Your Pink Tropical Desktop Garden comes as a kit with step-by-step instructions and everything you need to care for your tropical plants. Everything in the garden kit is designed with you in mind and customized to the needs of your plants.

Your Indoor Desktop Garden Kit will include:

3 Tropical Pink Plants – Each of the pink hued tropical plants have aligned light, soil, and nutritional requirements, making them ideal companion plants for your desktop garden.

Bamboo or Concrete Planter – A reusable planter made of either sustainably sourced bamboo or concrete, and includes planter liner and tray. Both planters are approximately 5" x 5" x 5".  

Aeration Mat – A green aeration mat made from recycled bottles to be placed at the bottom of the black planter liner. This mat helps keep oxygen available to the plants' roots, which is crucial for their growth and development.

Tropical Foundation – The Gardenuity Foundation is custom blended compost matched to the needs of your tropical plants. 

Tropical Serum – The Gardenuity Tropical Serum is a soil amendment and matched to the nutritional needs of your tropical plants. Designed to be used monthly, this all natural serum will keep your plants well nourished.

Orange Scoop – To use when watering + feeding your plant! 

Mister Spray Bottle – Fill with water and mist your plants.

When your plants arrive, take them out of the box as soon as you can and remove their travel attire. Check your plants' soil + make sure they are well-hydrated. If they feel dry, place them in a shallow dish of water for 10-15 mins to let them soak up the water they need before placing them in their new home.

Setting up your tropical garden is simple and generally takes 15-20 minutes from start to finish. Printed instruction cards are included in each kit.

PLANT CARE TIPS:

LIGHT: Your desktop garden needs 4-5 hours of indirect, natural light every day.

WATER: Water your garden once per week by removing the black planter liner from the decorative planter and placing it in a shallow dish of water for 10-20 minutes; your plant will absorb the water it needs. Let your plant sit a few minutes to allow excess water to drain before placing it back into the decorative planter.

HUMIDITY: Your tropical plants like humidity. Every day prior to turning on your computer, take 5 seconds to lightly mist your plants. 

NUTRIENTS: Nourish your garden once per month by filling your orange scoop with water and adding 2-3 drops of liquid nutrient (serum). Pour directly onto the soil of your garden.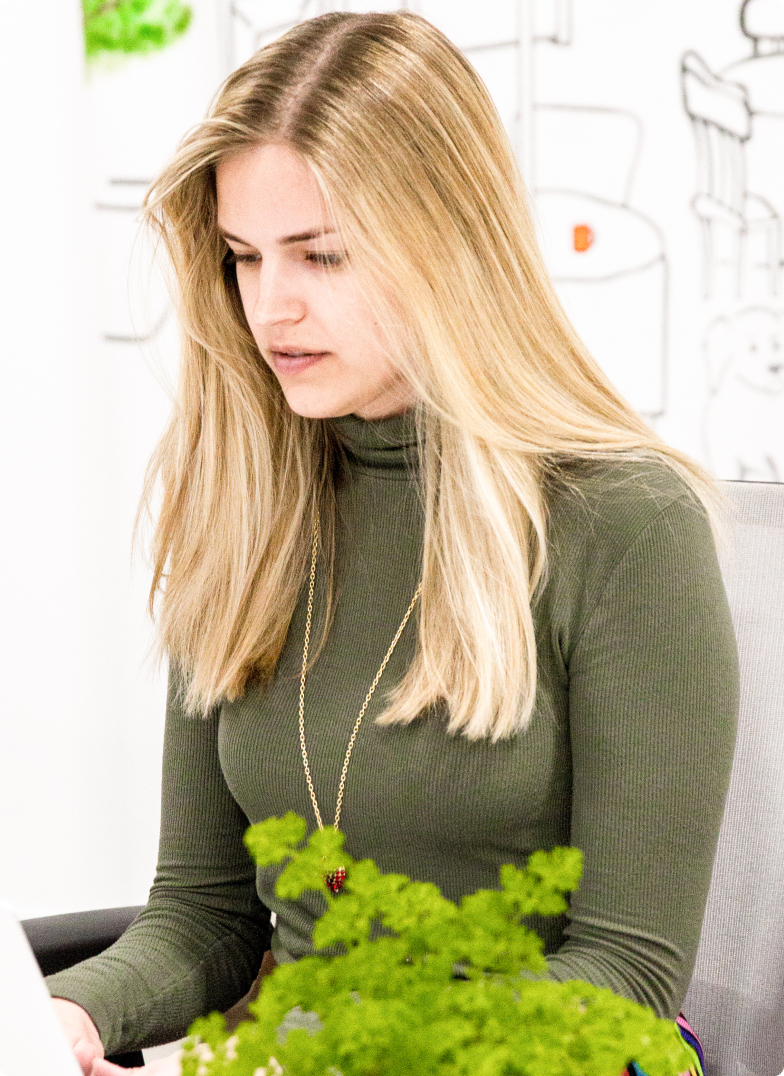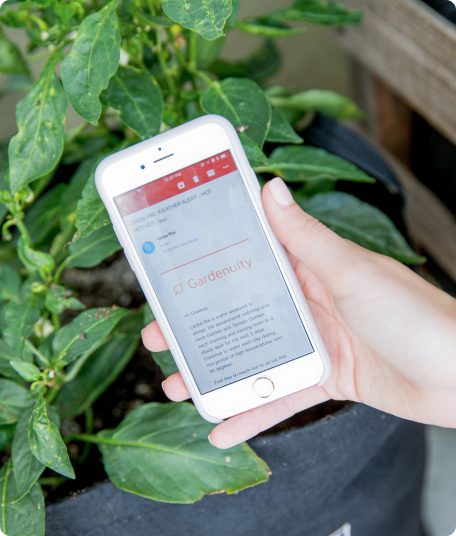 Grow Pro® Support
When you grow with Gardenuity, you have full access to Grow Pro® and the Gardenuity Community. Our team of Grow Pro experts are available to answer your questions and make your growing experience seamless.
On-Call Support from our Grow Pro Experts
Harvest Help
Weather Alerts
Watering Tips
Wellness Inspiration
Seasonal Recipes
... and more!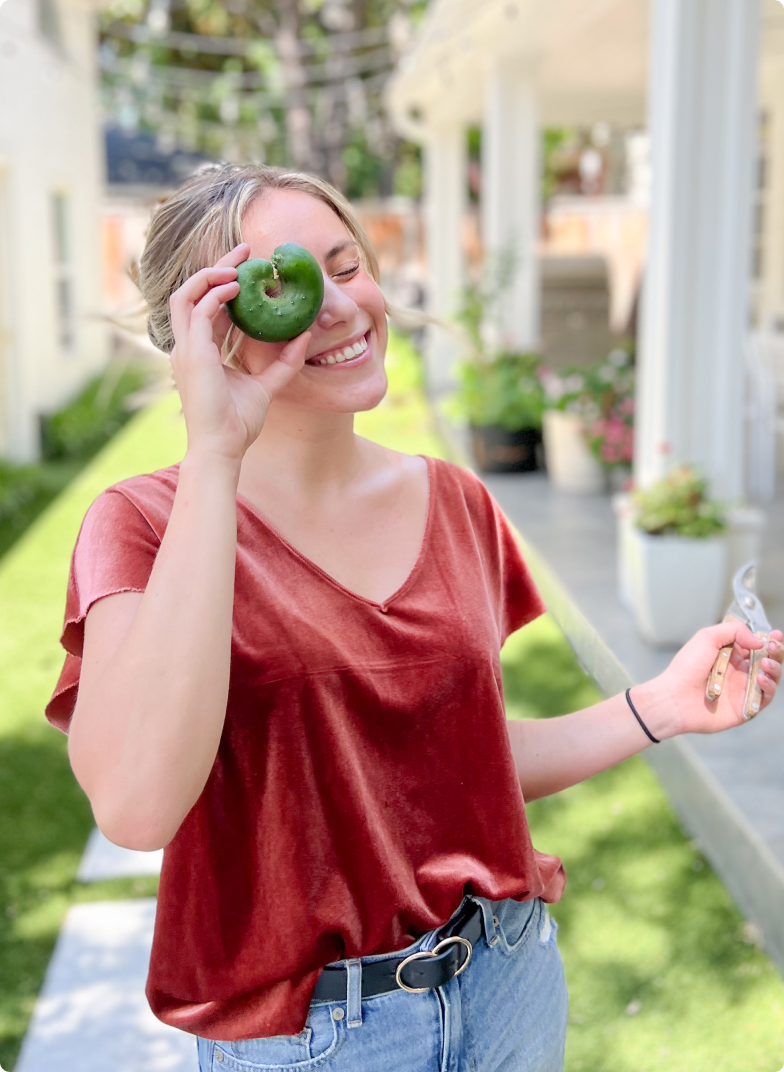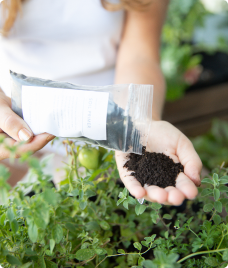 Gardenuity: the better way to grow
Garden Kit + Plant Collection matched to your geolocation
Grow Pro Experts to help you harvest results you deserve
Made Sustainably - No excess waste for you or the planet
Suitable for all ages and experience levels
Get growing, guaranteed
Join thousands of happy growers