If you're anything like us, your days are already at full capacity. Studies have shown that nurturing nature can reduce stress and boost your overall mood, which is why we think the Succulent Desktop Garden is a great way to add some greenery to any desk or indoor space! Each kit includes a collection of succulent plants that will grow beautifully together, with each plant being unique in its coloring and variegation.
Set up in just 10-15 minutes!

Includes 3 succulent plants

Kit comes with instructions + care guide
*Plants may vary from the images based on freshness & seasonal availability.
SIZE

Both planter options are approx. 5 x 5 x 5 inches

SUNLIGHT

Needs 4-6 hours of bright, indirect natural light per day

THE KIT

Planter, Plant Liner, Drip Tray, Aeration Mat, Soil Primer, Succulent Foundation, Paintbrush, Pipette, Scoop, Plant Nutrients, 3 Plants

GROW PRO

Watering reminders, wellness inspiration, plant care guides, on-call support, and more
View full details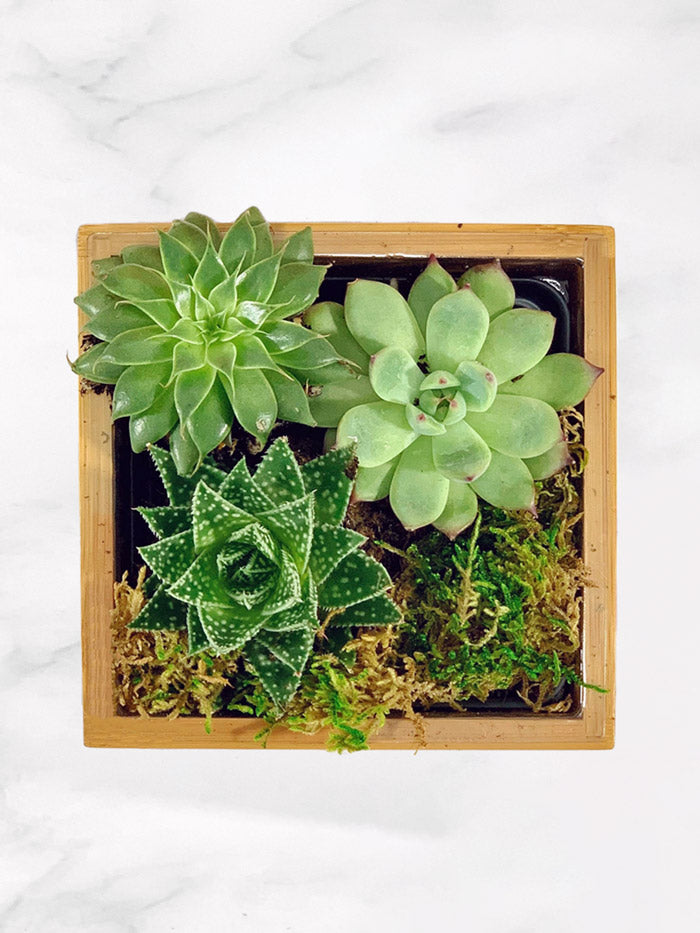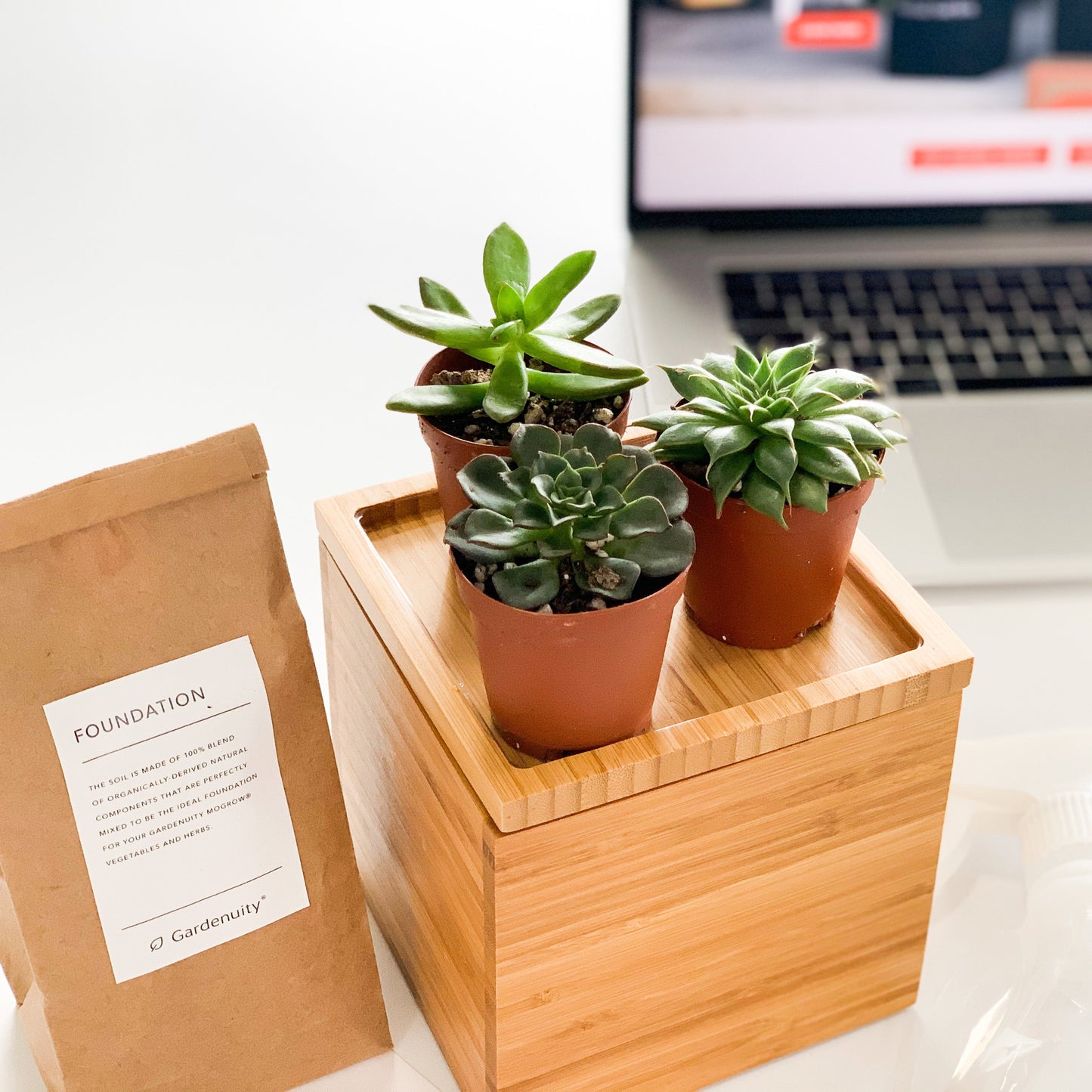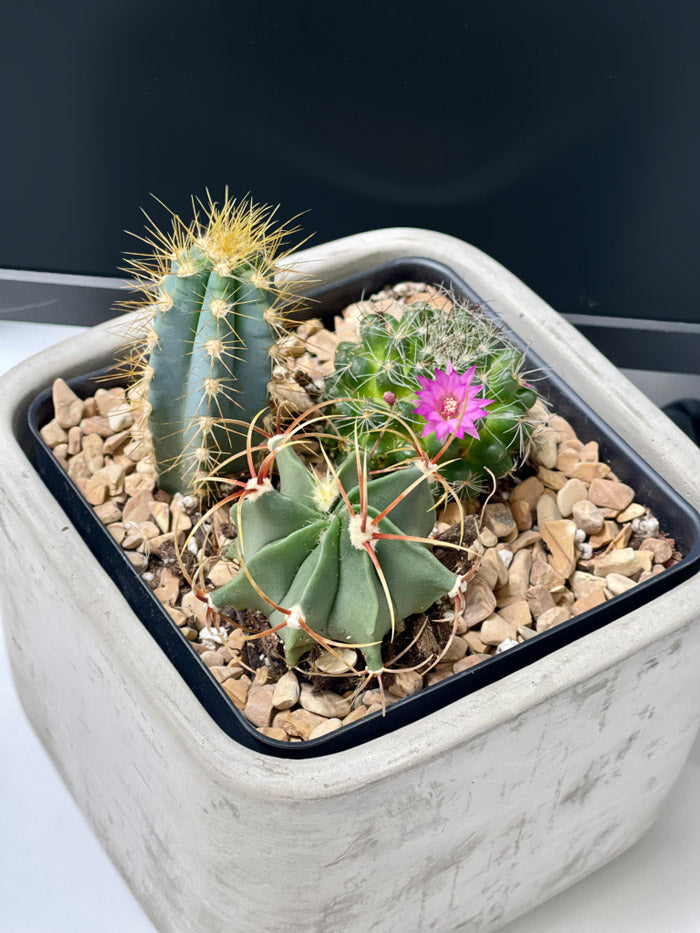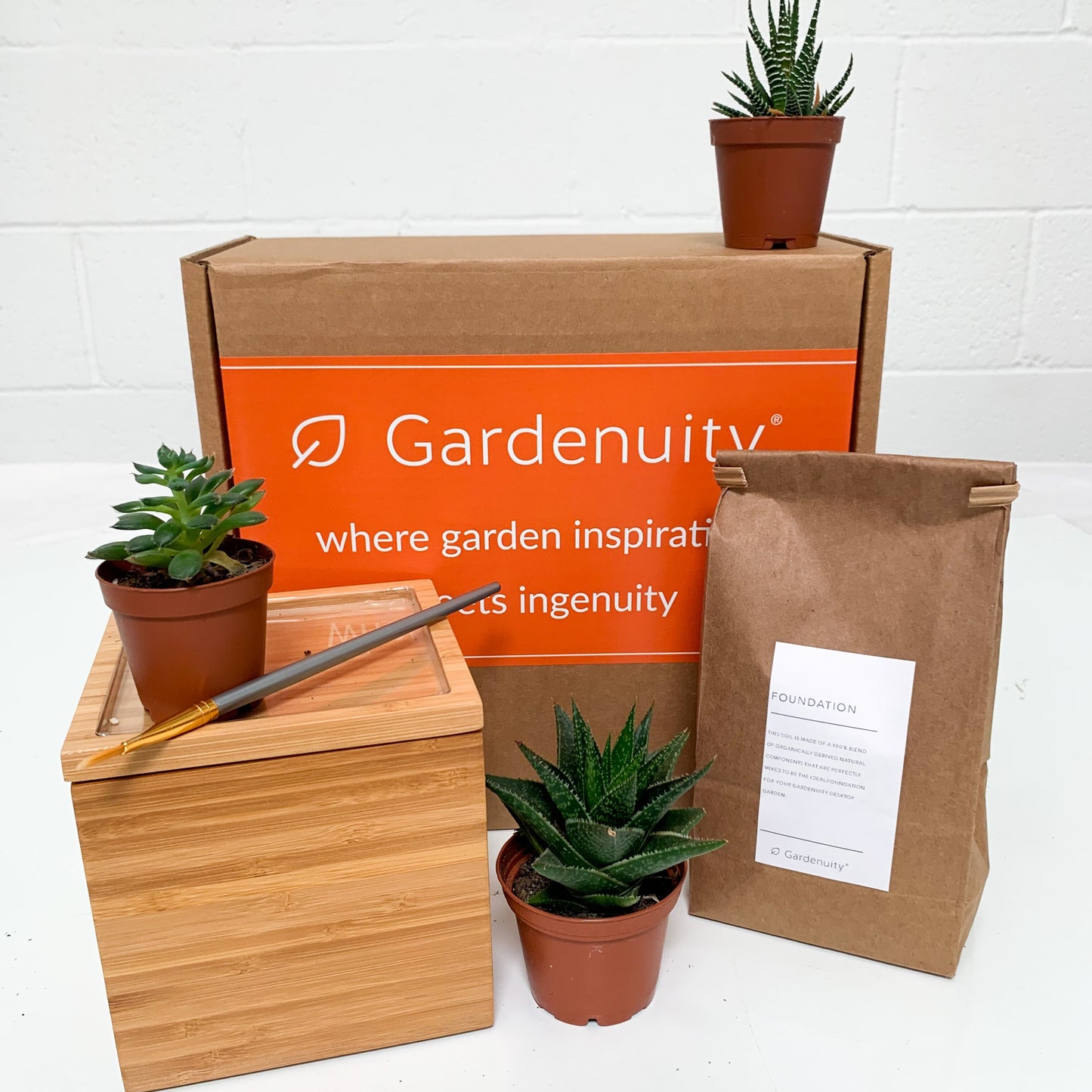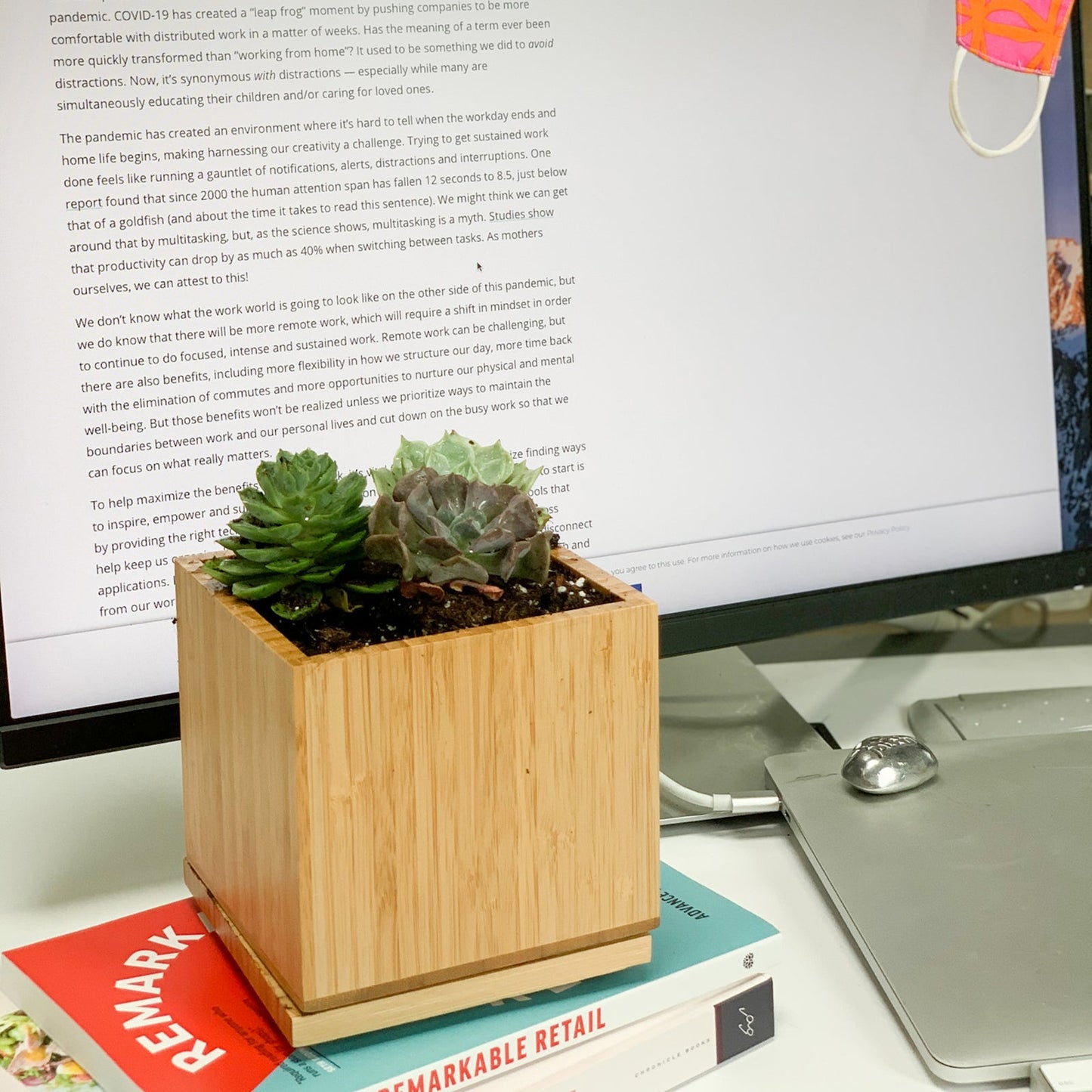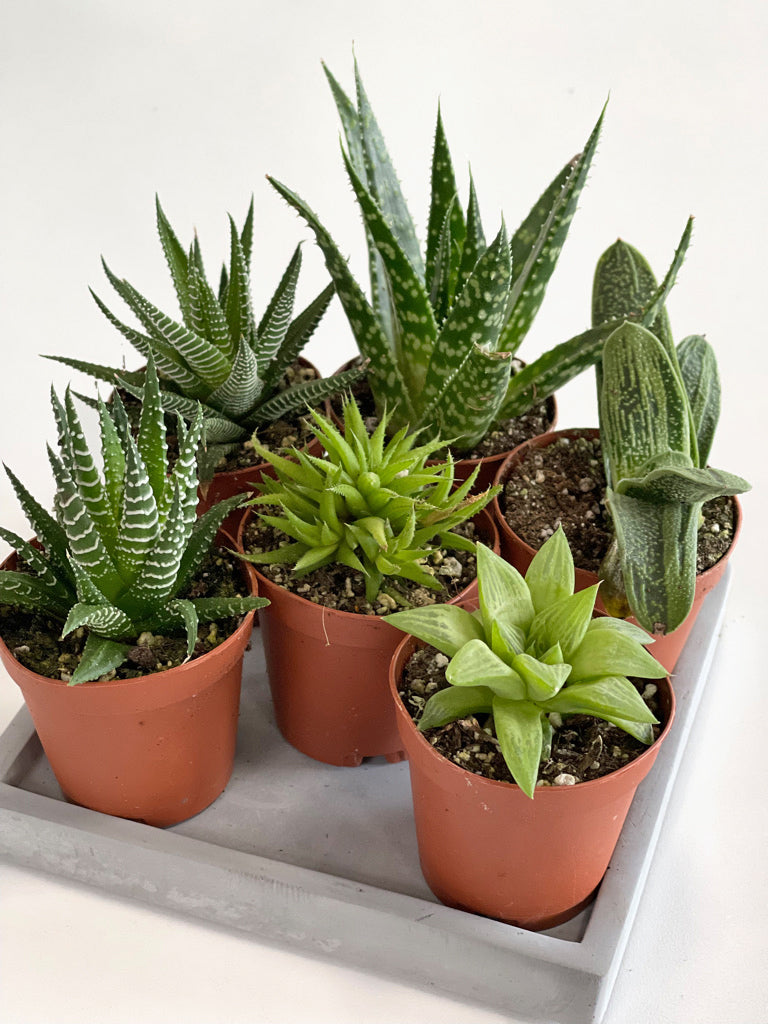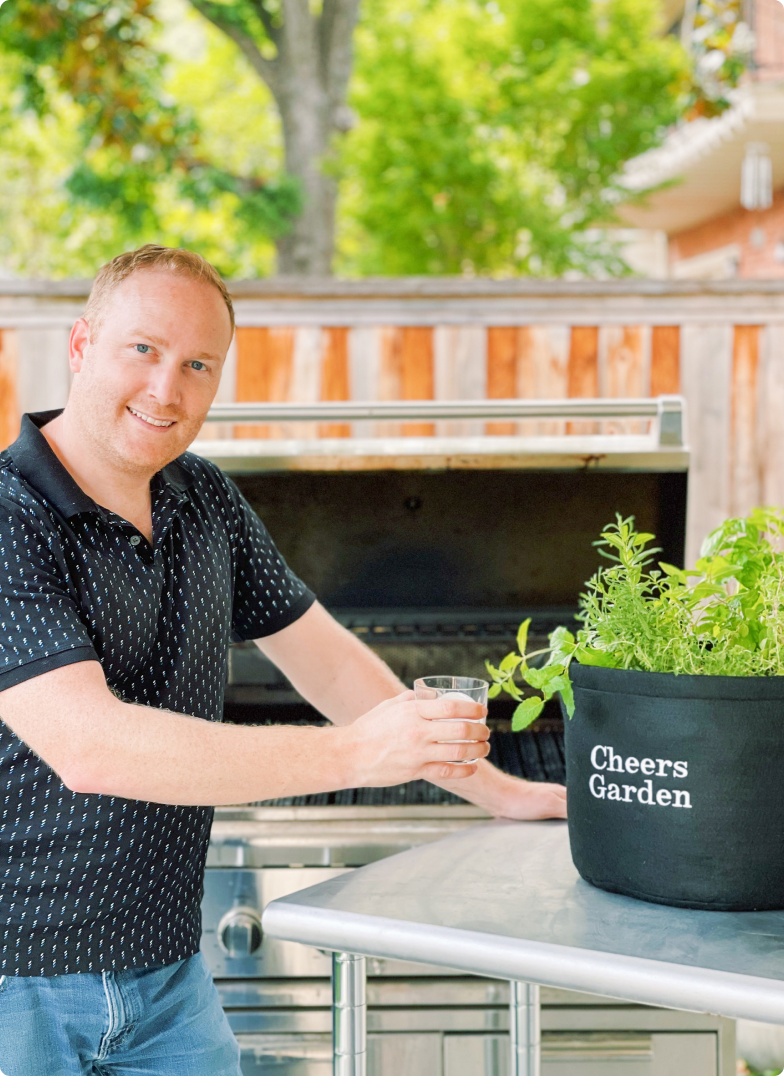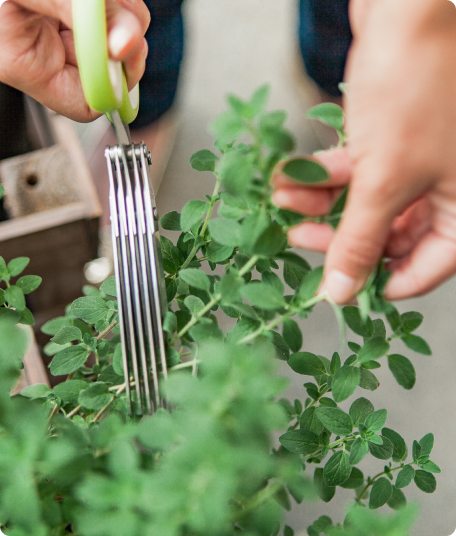 Get matched with the perfect plants just for you
Gardenuity's Match® Technology
Our Match® Technology customizes each garden to your location so you and your plants will have the perfect growing experience. We match you with a collection of plants based on the current season, your forecasted weather, the plants' needs, and the garden's location. Our patent-pending Match Technology takes the guesswork out of growing, so each experience grows success.
Let's get down to the
nitty-gritty
Scientific studies have proven the wellness benefits of having greenery in our workspace + bringing the restorative power of nature to our everyday life. Whether you work in a high-rise building, classroom, or at home, a desktop garden can inspire connection, productivity, gratitude, creativity, and ingenuity – no matter where it is planted. 

Succulents have leaves and stems that hold water through long periods of drought, making them simple to care for. These natural beauties come in a wide array of shapes and sizes with over 10,000 different varieties around the world. Whether you prefer a modern aesthetic or a more organic one, this low maintenance desktop garden is an stylish way to add some greenery to any home or office.

• Includes 3 different succulent varieties

• Kit comes with instructions + care guide

• Easy to care for desktop garden

Your Succulent Desktop Garden comes as a kit with step-by-step instructions and everything you need to care for your plants. As you build your indoor garden, enjoy getting a little dirty in the soil! Everything in the desktop garden kit is designed with you in mind and customized to the needs of your plants.

Your Succulent Desktop Garden will include:

3 Succulent Plants – Each of the succulent plants have aligned light, soil, and nutritional requirements, making them ideal companion plants for your desktop garden.

Bamboo or Concrete Planter – A reusable planter made of either sustainably sourced bamboo or concrete, and includes planter liner and tray. Both planters are approximately 5" x 5" x 5".  

Aeration Mat – A green aeration mat made from recycled bottles to be placed at the bottom of the black planter liner. This mat helps keep oxygen available to the plants' roots, which is crucial for their growth and development.

Soil Primer – A proprietary blend of nutrients designed as the chief dietary supplement to support the growth of soil microbes.

Succulent Foundation – The Gardenuity Foundation is custom blended compost matched to the needs of your succulent plants. 

Orange Scoop – To use when building your desktop garden.

Pipette – A watering measurement tool. Water your succulent garden, using one full pipette for each plant. The pipette helps you water closer to the roots and avoid getting water on the plants' leaves.

Paintbrush – Indoor succulents will gradually collect dust on their leaves, which can inhibit their growth and health. Keep your succulent dust free by using the provided paint brush to remove any unwanted debris.

When your plants arrive, take them out of the box as soon as you can and remove their travel attire. Remove each succulent from its plastic pot and gently massage away the excess soil, freeing up the root system from the packed growing media. Then, quickly dip the succulent roots in a bowl of tepid water for 3-5 seconds before planting them.

Setting up your succulent garden is simple and generally takes 15-20 minutes from start to finish. Printed instruction + care cards are included in each kit.

PLANT CARE TIPS:

LIGHT: Your desktop garden needs 4-5 hours of bright, indirect sunshine every day.

WATER: Water your succulents every 10-15 days using the pipette included in your garden. Water each plant close to the stem with one pipette of water. Avoid getting water on the leaves.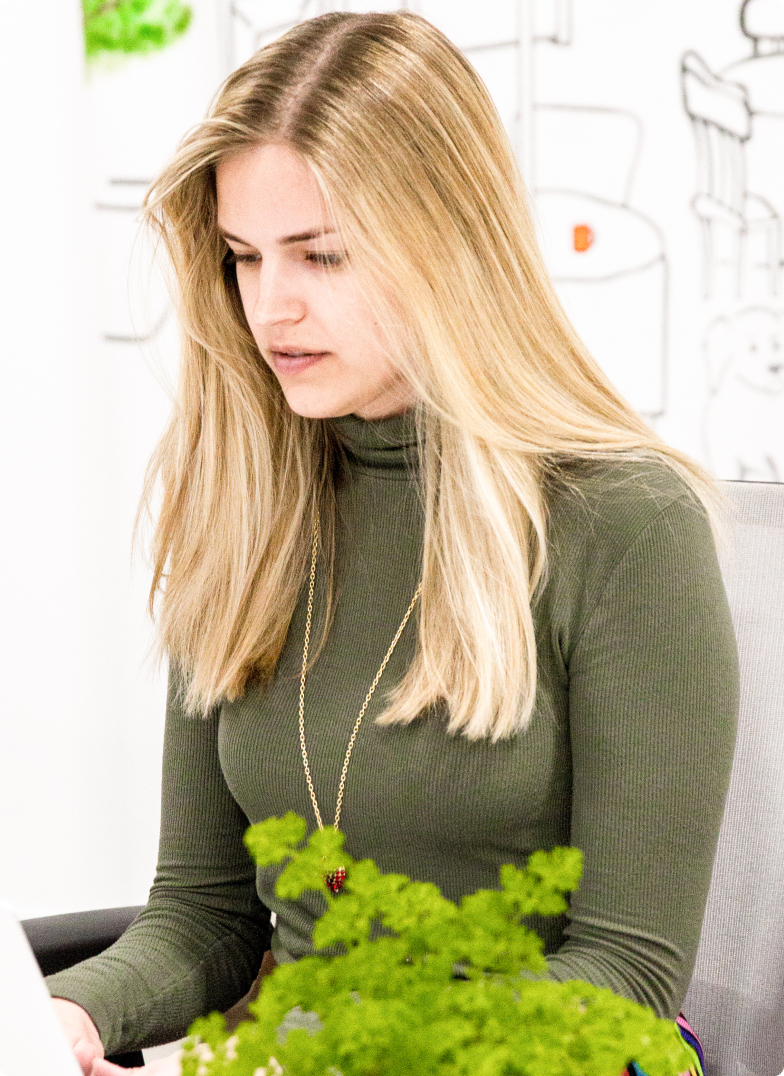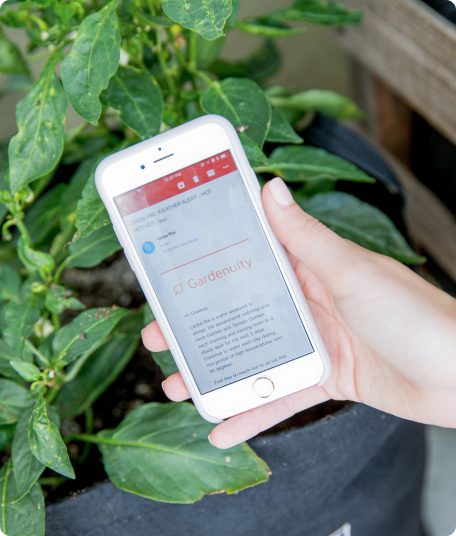 Grow Pro® Support
When you grow with Gardenuity, you have full access to Grow Pro® and the Gardenuity Community. Our team of Grow Pro experts are available to answer your questions and make your growing experience seamless.
On-Call Support from our Grow Pro Experts
Harvest Help
Weather Alerts
Watering Tips
Wellness Inspiration
Seasonal Recipes
... and more!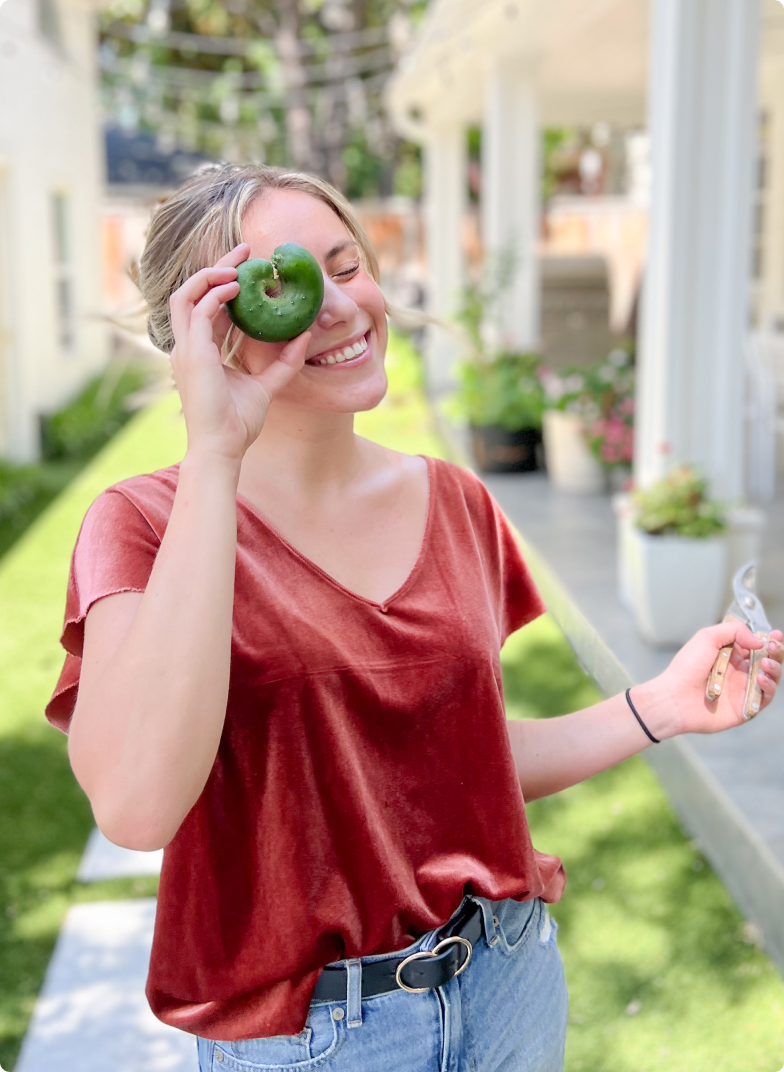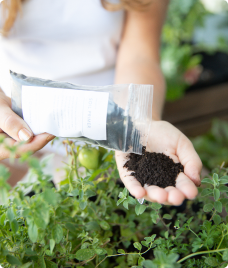 Gardenuity: the better way to grow
Garden Kit + Plant Collection matched to your geolocation
Grow Pro Experts to help you harvest results you deserve
Made Sustainably - No excess waste for you or the planet
Suitable for all ages and experience levels
Get growing, guaranteed
Join thousands of happy growers