Herb Giftable Garden
Regular price
Sale price
$78.00 USD
Unit price
per
Sale
Sold out
Free Shipping on your complete Giftable Herb Garden. Both your plant collection and customized garden kit will ship for free direct to your recipient's door.
Inspire the person that inspires you with the gift of growing. When you gift a Gardenuity garden, your gift recipient will receive the complete garden kit with a Match code inside for their fully rooted plant collection. When they are ready to get growing, they simply email GrowPro@gardenuity.com, and their plants will be matched to them and sent from one of our farm partners.
Your gift recipient will love the Gardenuity garden for lots of reasons. First, it is easy to get started and doesnt require any experience. The gift includes insightful guidance from Grow Pro to ensure your gift recipient is matched to the perfect plants for where they live. Second, when your gift recipient is ready to get growing, they can work directly with a Grow Pro on their plant collection specifics and can choose the timing of their plant delivery.
When you give a Gardenuity Garden, you are giving the gift an unforgettable experience- the experience of growing and harvesting fresh flavors from their very own patio garden.
Long considered nature's most treasured gift, herbs have been playing a big part in kitchens, offices, homes and lives for centuries. They bring myriad of practical uses, and having fresh herbs at the ready is one of life's greatest pleasures. Whether you are harvesting a mint leaf for your iced tea or a bunch of rosemary to put in your floral bouquet, herbs bring a freshness to any space. Gardenuity makes having fresh herbs in abundance simple and seamless for the experienced and novice gardener.
The scent and beauty of an herb garden will add ambiance to your patio, porch, fire escape or balcony. As the seasons change, so do the fresh herb choices. Knowing you don't have to have a sprawling backyard, spacious garden beds, or loads of time to enjoy the many benefits that fresh herbs bring to your world makes the experience even better.
If your recipient has a location outside that receives five or more hours of daily sun, your garden is positioned for lush growth. The Herb Garden comes with everything you need for a complete, healthy herb garden. We are all about gardening success, and an herb garden is a great way to get started.

The Giftable Herb Garden includes:
Portable & reusable 5 gallon grow bag embroidered with "Herb Garden"
Culinary herb plants sent to recipient when they are ready to get growing
Gardenuity Foundation (1 gallon) 
Coir (expands to 3-4 gallons of total growing media)
Soil Primer
Micro Nutrients
PH Toner
30-day & 60-day feeding
Seasonal Grow Pro Membership
  
Gardenuity is a modern way to experience the joys of gardening and the I Grew That feeling. Its a way to engage you in fresh wellness and culinary ideas that you might not have tried had you not grown them yourself. 
The giftable garden includes a season of Grow Pro membership. Grow Pro offers a world of benefits designed to make your gardening experience better. You will receive weather alerts to tell you if you need to move your garden inside and interesting ways to enjoy your fresh harvests - recipes, harvesting tips and more. 
Garden Weather Alerts
Harvest Guidance
On-Call support from a Grow Pro expert
Seasonal Recipes
Watering tips
Wellness Advice
Share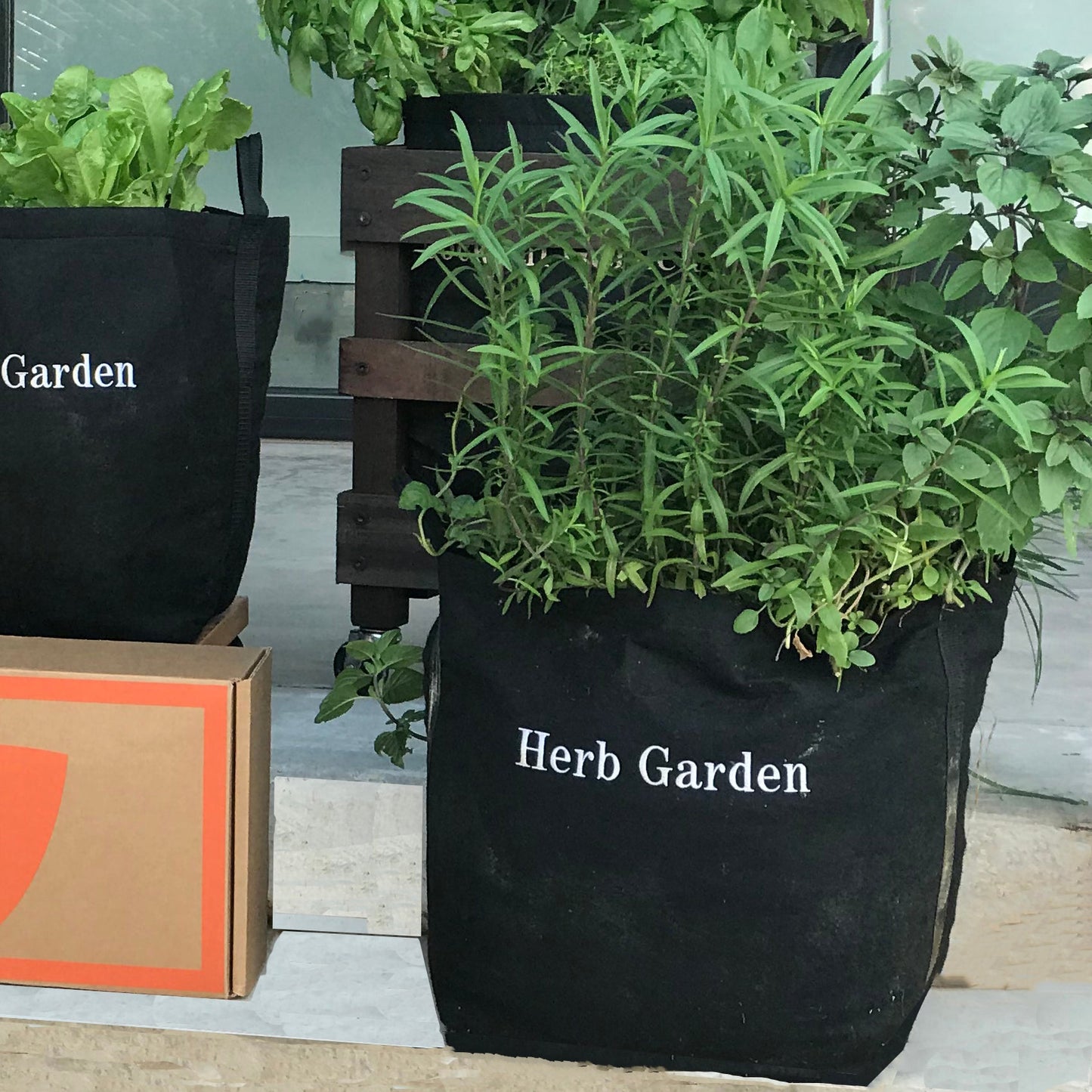 Free Shipping

Free shipping on orders over $75 per recipient address. All orders are carefully hand-packed for safe travel.

Get Growing Guarantee

We guarantee your plants will arrive happy and ready to grow! If they don't, we will replace them for free.