Some Like It Hot - Pepper Garden Kit
Square Foot Container Garden, Gardening Kit, Free 2-4 Day Delivery
First harvest can be expected in the first 10-14 days.

Free Garden Delivery, arrives in 2-4 days. Start growing in just 30 minutes, and join thousands of Gardenuity Growers today!
$78.00
100% Grow Guaranteed
Gardenuity Custom Garden Kits include everything needed for a successful grow:

Portable & Reusable 5 Gallon Grow Bag

Foundation Compost

Coir - Expands To 3-4 gallons of total growing media
Soil Primer

Micro Nutrients

PH Toner

30 & 60 Day Feedings

Garden Kit Size: One Square Foot 12x12x12

A season of Grow Pro - 24/7 Gardening Support

How do I get started?
Gardenuity takes the guess work out of gardening. The Some Like It Hot - Pepper Garden Kit is designed for everyone: First time, novice and master gardeners.

Our Garden Kits are preloaded with everything you need to grow along with the correct peppers & herbs matched to your current grow season.
Order online and Gardenuity Match will "Match" you to the perfect plant collection with the highest success rate based on current weather.
Garden kit and plants are tailored and delivered for you

Setup the garden in 30-40 minutes with easy-to-follow instructions in print or through video

Grow Pro will keep you updated on ways to enjoy your harvests and celebrate the flavors of the season

ADD TO CART
Gardenuity Match Technology
We customize each individual garden to your current location, for the best grow experience!

All the plants are carefully curated to be perfect additions to your garden kit.

Each plant collection is pulled based on the results of our match algorithm. Using predictive analytics, Gardenuity Match makes recommendations on plant choices. Match uses location services and only shows relevant results to your current location.

ADD TO CART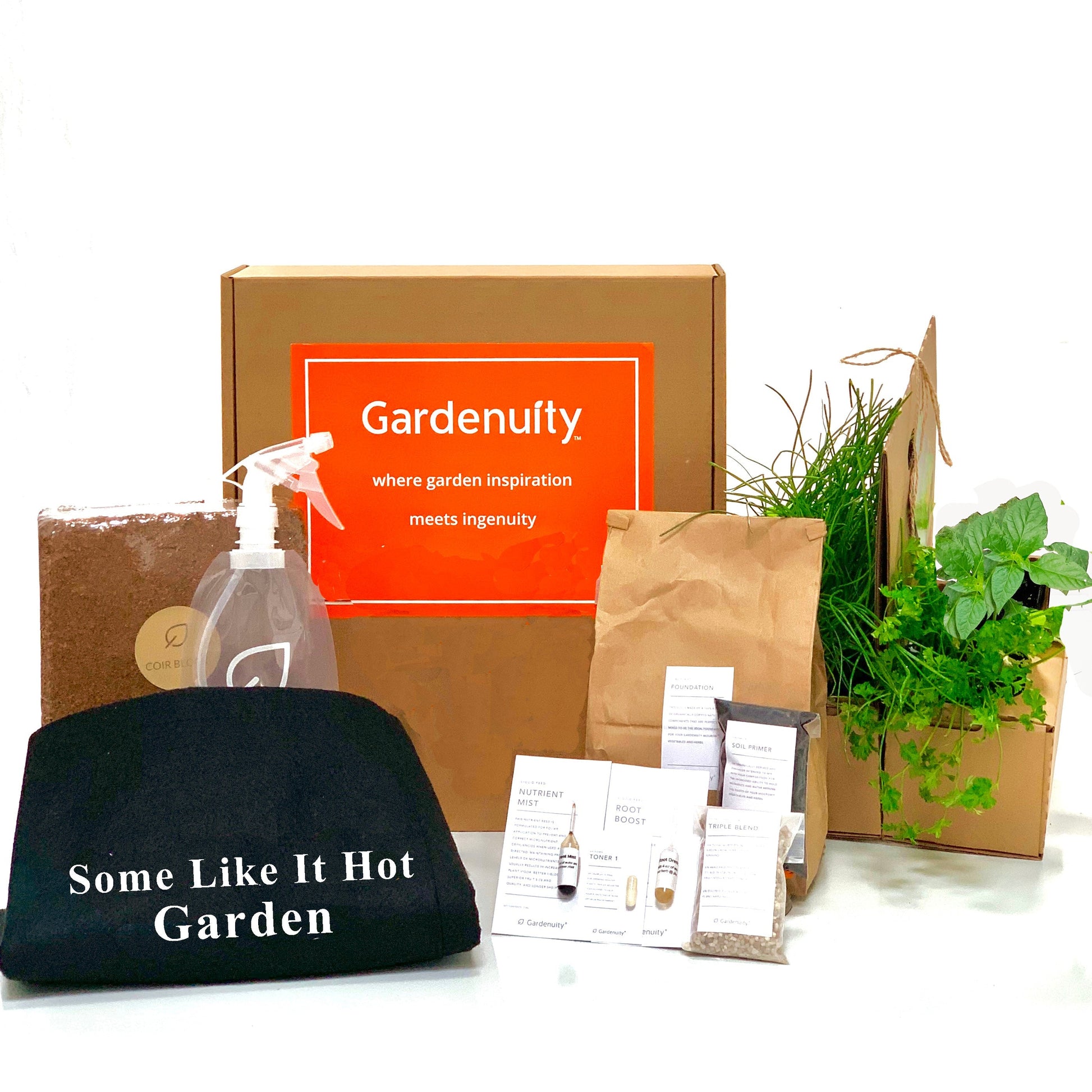 Old Way
Overwhelmed and confused by information

Generic compost and nutrients, and growing advice

Plants selected based on availability not climate and location

Unnecessary chemicals added to soil to try and make a garden suitable for your plants

No support to help once you get home

New Way
Custom garden kit and nutrient needs
Exactly the right amount, no waste

Garden kit and plant collection matched to your growing location and each other

The perfect garden created for your plants to thrive

Custom content matched to your garden and growing climate to answer any questions you may have
A team of Grow Pro experts to get you the harvest results you deserve

Thousands of happy growers and millions of harvests

Garden Kit & Plant Collection Matched To Your Geo Location

A Team of Grow Pro Experts To Get You The Harvest Results You Deserve

Made For The Planet - No Excess Waste

Suitable For All Ages & Experience Levels

Thousands of Happy Growers and Millions of Harvests

Featured in:

People Who Love Growing With Us: