The Culinarian Garden Subscription
The Culinarian Garden Subscription is for anyone who loves to cook and get creative in the kitchen. This gardening subscription is where cooking and gardening converge; it is a culinary haven with everything you need to start your home gardening experience. Grow an abundance of fresh herbs + veggies in your two garden kits: the Herb Garden + the Homegrown Garden. Enjoy a year full of harvests and experience the joy that comes with every "I grew that" moment.
2 garden kits with instructions + care guides

Includes seasonal vegetable + herb plant deliveries

Comes with our favorite garden accessories
SIZE

Each garden is 1 sq ft – ideal for any outdoor space!

CONTAINERS

2 Stitched Grow Bags with Handles – Portable + Reusable!

PLANTS

3 Seasonal Deliveries of Fully-Rooted Herbs + 2 Seasonal Deliveries of Veggie Plants matched to you*

THE KIT

2 Grow Bags + 2 Critter Covers, Coir, Custom Foundation Compost, Mister Spray Bottle, Soil + Plant Nutrients, 1 Hand Trowel, 1 Hand Transplanter

GROW PRO

Weather alerts, watering + feeding reminders, gardening guidance, plant care guides, harvest help, seasonal recipes, on-call support, and more!
View full details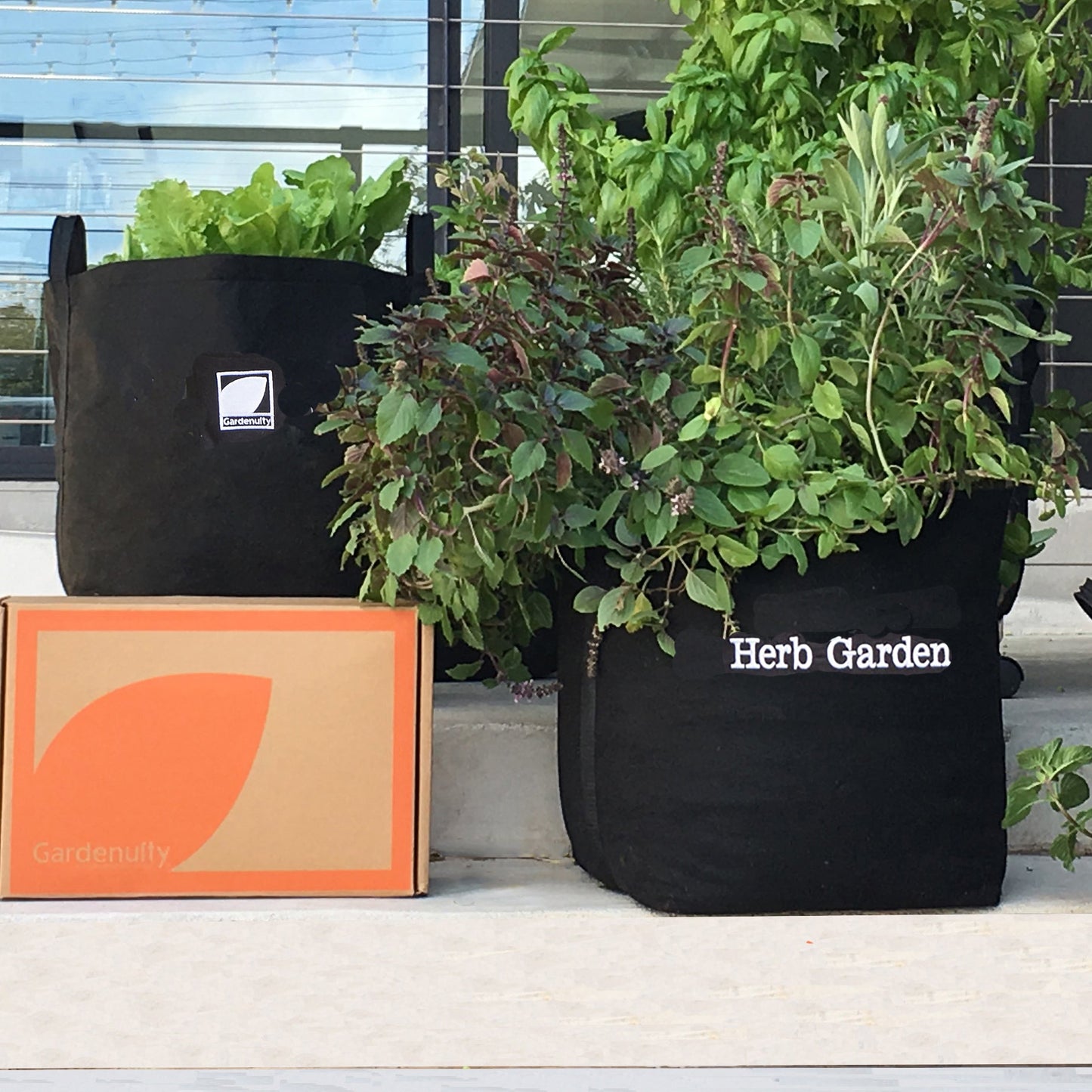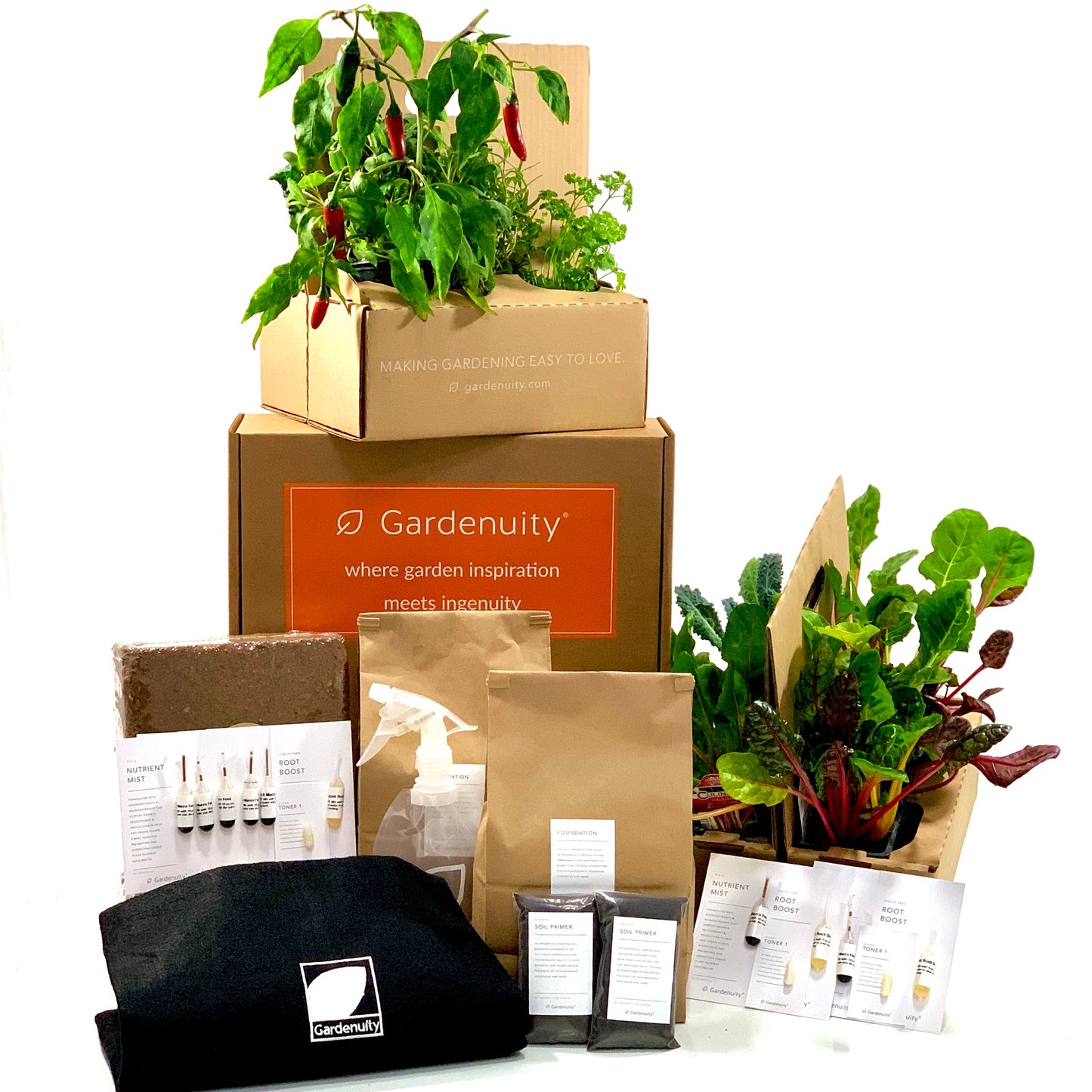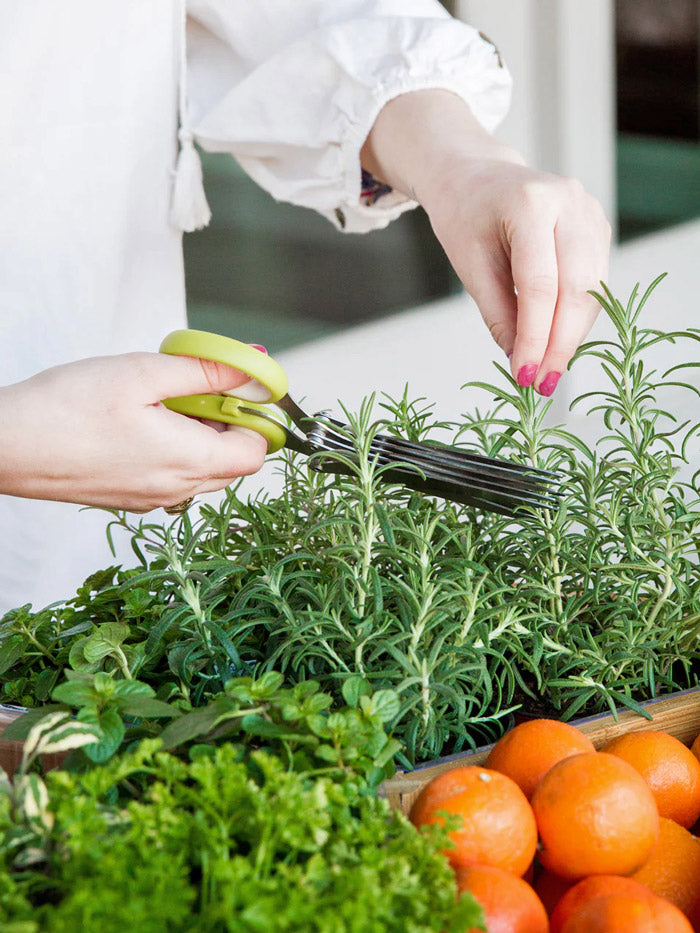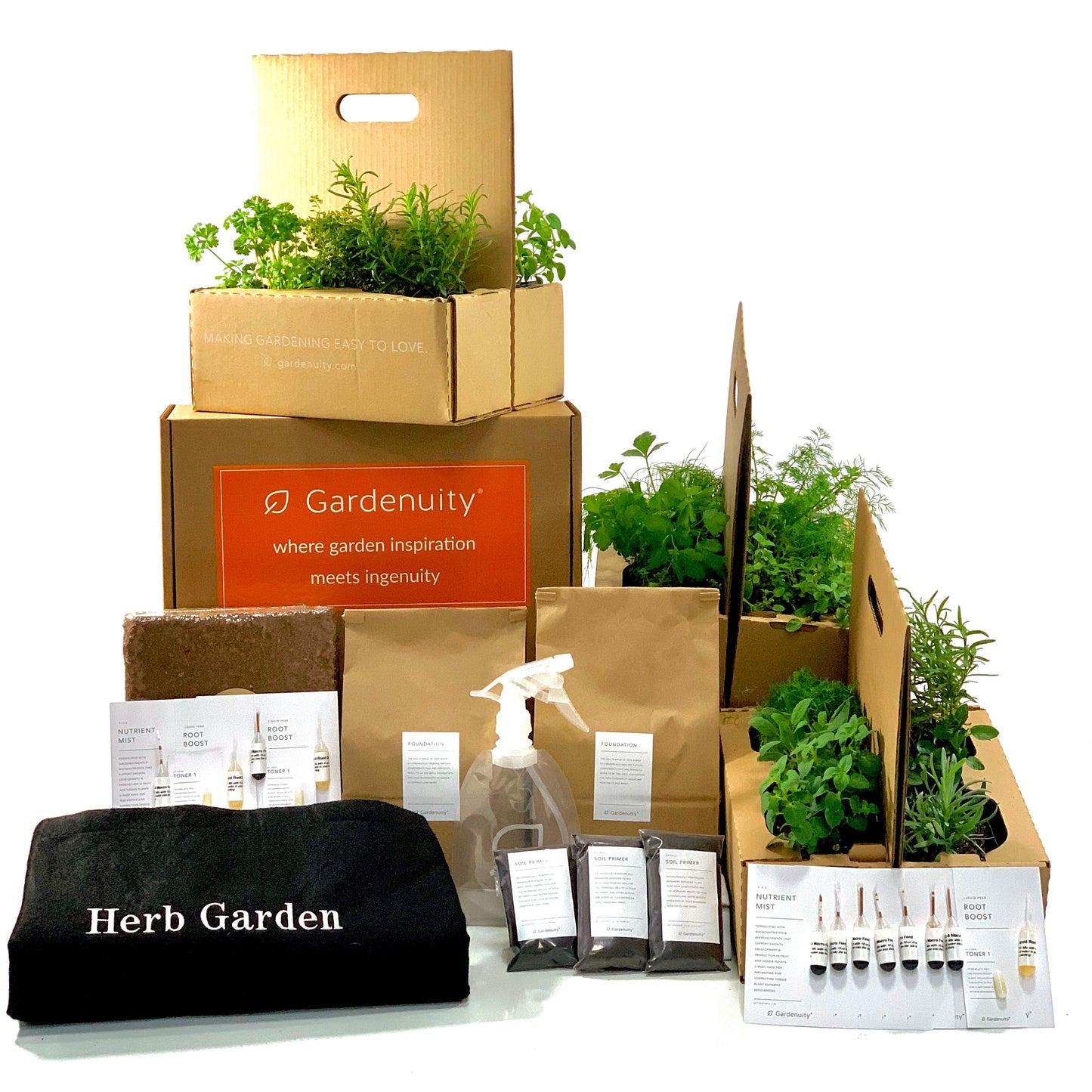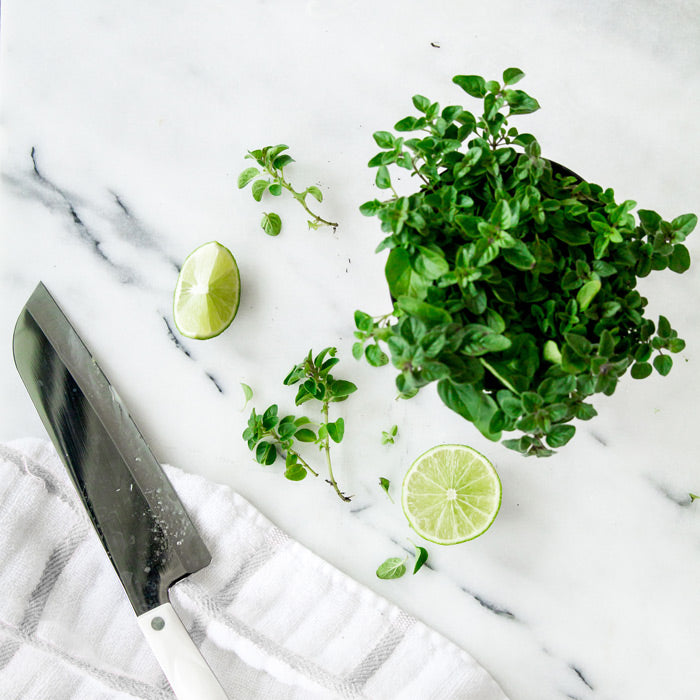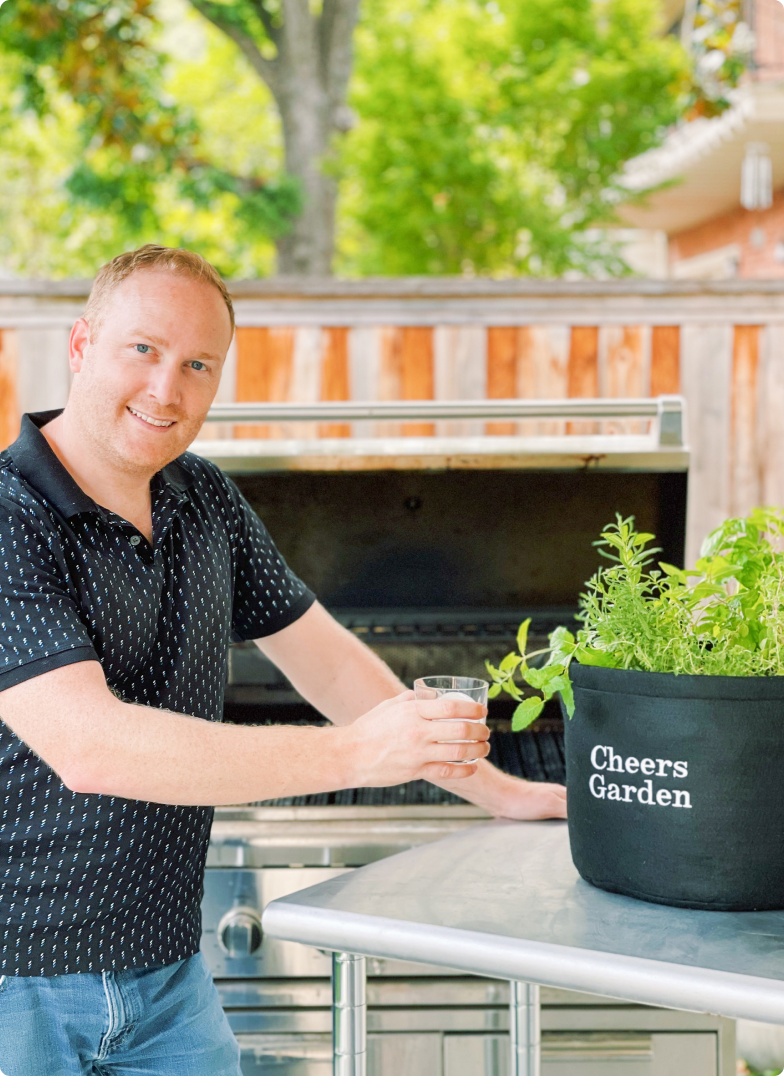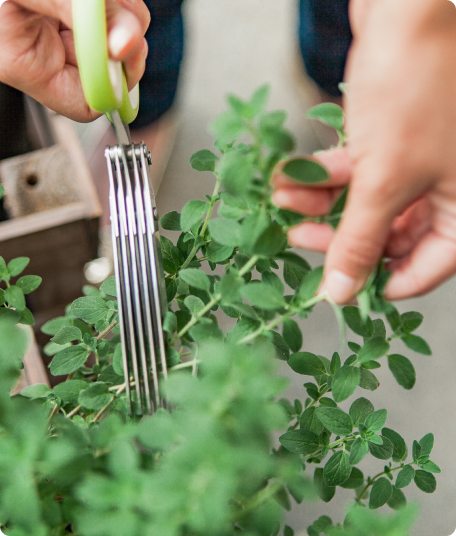 Get matched with the perfect plants just for you
Gardenuity's Match® Technology
Our Match® Technology customizes each garden to your location so you and your plants will have the perfect growing experience. We match you with a collection of plants based on the current season, your forecasted weather, the plants' needs, and the garden's location. Our patent-pending Match Technology takes the guesswork out of growing, so each experience grows success.
Let's get down to the
nitty-gritty
The Culinarian Garden Subscription is designed for everyone, from beginners to master gardeners. Turn your patio into your own garden oasis with two grow bags that are full of seasonal flavors. Create the ultimate escape from the urban buzz. From simple fire escapes to decked out terraces, two container gardens full of herbs and veggies can be your invitation to connect with nature. Your outdoor space may be small, but our square foot garden kits can produce several harvests for you and your family to enjoy! 

Receiving a curated and matched selection of fresh herbs + veggies delivered right to your doorstep seasonally is exciting and convenient. Our outdoor garden kits are perfect for anyone who wants to enjoy the flavors and health benefits of freshly grown herbs + veggies without a ton of work. 

• Our reusable grow bags have handles, making the gardens easy to move around.

• Includes 3 seasons of fully-rooted herbs + 2 seasons of fully-rooted veggies that are matched to you.

• Enjoy your first herb harvest 10-14 days after planting!

Your Culinarian Garden Subscription will arrive with everything needed to have a successful year of growing! All you need to add is the nurturing, water, and sunshine! Everything in the garden is matched to you and to the needs of your plants. When you grow with Gardenuity, you have all the support you need through your Grow Pro perks. Let's grow good things together. 

Your garden subscription kit will include:

2 Reusable Grow Bags with handles, made of breathable microfiber fabric that will help keep your plants' roots healthy and happy. Your plants will grow the entire season in the grow bags. (You can reuse them for next season, too!)

Fully-Rooted Herb + Veggie Plant Deliveries – 3 collections of seasonal herbs + 2 collections of seasonal veggies are matched to the season, your location, and to each other. These fully rooted plants are sourced from one of our family-owned farm partners and come with the Gardenuity Get Growing Guarantee.

Foundation – The Gardenuity Foundation is custom blended seasonal compost, full of nutrients for your plants to thrive.

Coir – Compressed coconut husks that when hydrated will expand and become part of your garden's planting media.

Soil Primer – A proprietary blend of nutrients designed as the chief dietary supplement to support the growth of soil microbes.

Triple Blend – A proprietary blend that will support the living organisms in your soil and will aid in balancing the pH of the growing media. Triple Blend brings together carbohydrates, plant proteins, kelp extract, Humate, and a fermentation buffer.

Gardenuity Herb Serum – A proprietary blended plant nutrient and soil amendment that will help your plants grow a stronger and healthier root system. Derived from seaweed and humate, the Herb Serum will aid in bringing balance through naturally derived and plant friendly microbes.

Gardenuity Veggie Serum – A proprietary blend with seaweed and humate; Seaweed provides nutrition to the plants and soil, and encourages your plants to effectively draw nutrients from the foundation.

Critter Covers – Keep critters at bay with the Critter Cover! Designed to fit easily over your outdoor garden, this cover will provide a barrier to protect all types of plants from birds, squirrels, and other small animals. The large zipper opening provides easy access and makes harvesting your fresh herbs easy.

Hand Trowel + Transplanter – Both of these tools are made of high quality stainless steel with ash wood handles; 10.8" full length.

When your plants arrive, remove them from the box and check the soil. If they are dry to the touch, place them in a shallow dish of water and let them soak up the water they need. Then place them in a sunny spot until you are ready to plant them in the grow bag.

SET UP: Setting up your gardens is simple and generally takes 30-40 minutes each, from start to finish. Printed instruction cards are included in each kit, or you can follow along with the provided video tutorial.

*Full gardening guidance, plant care and harvesting guidelines will be sent to you as part of your Grow Pro® experience.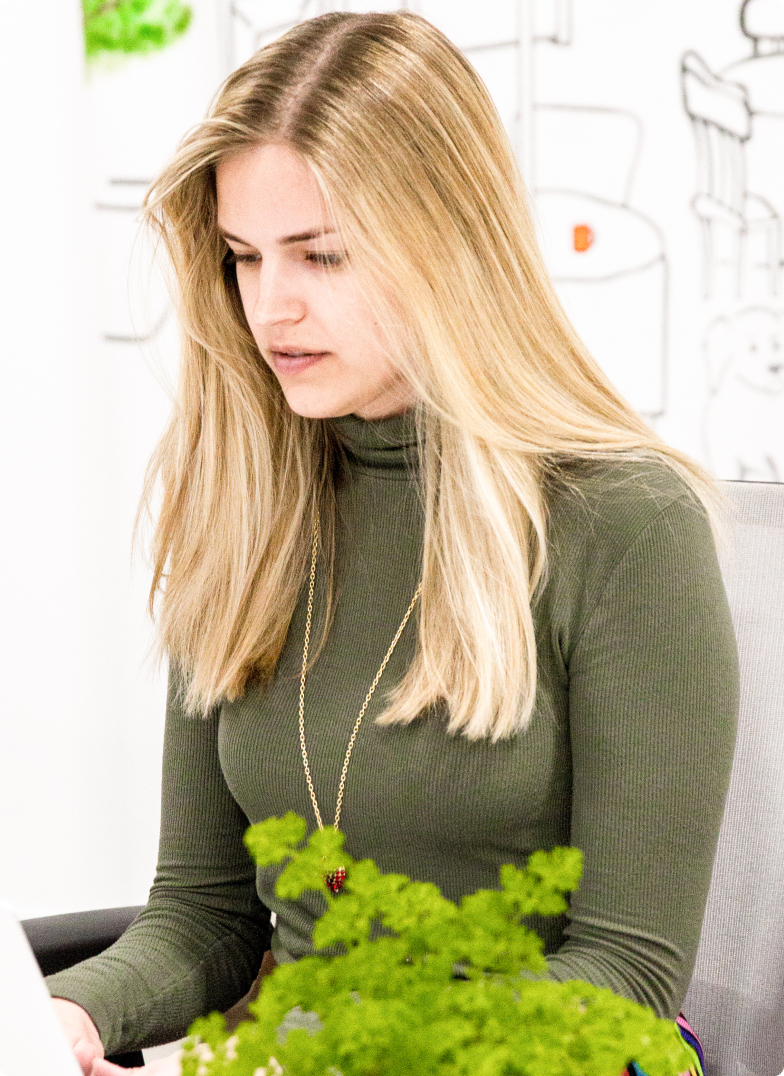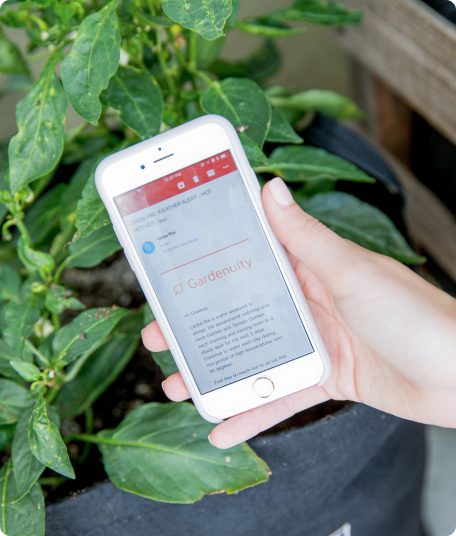 Grow Pro® Support
When you grow with Gardenuity, you have full access to Grow Pro® and the Gardenuity Community. Our team of Grow Pro experts are available to answer your questions and make your growing experience seamless.
On-Call Support from our Grow Pro Experts
Harvest Help
Weather Alerts
Watering Tips
Wellness Inspiration
Seasonal Recipes
... and more!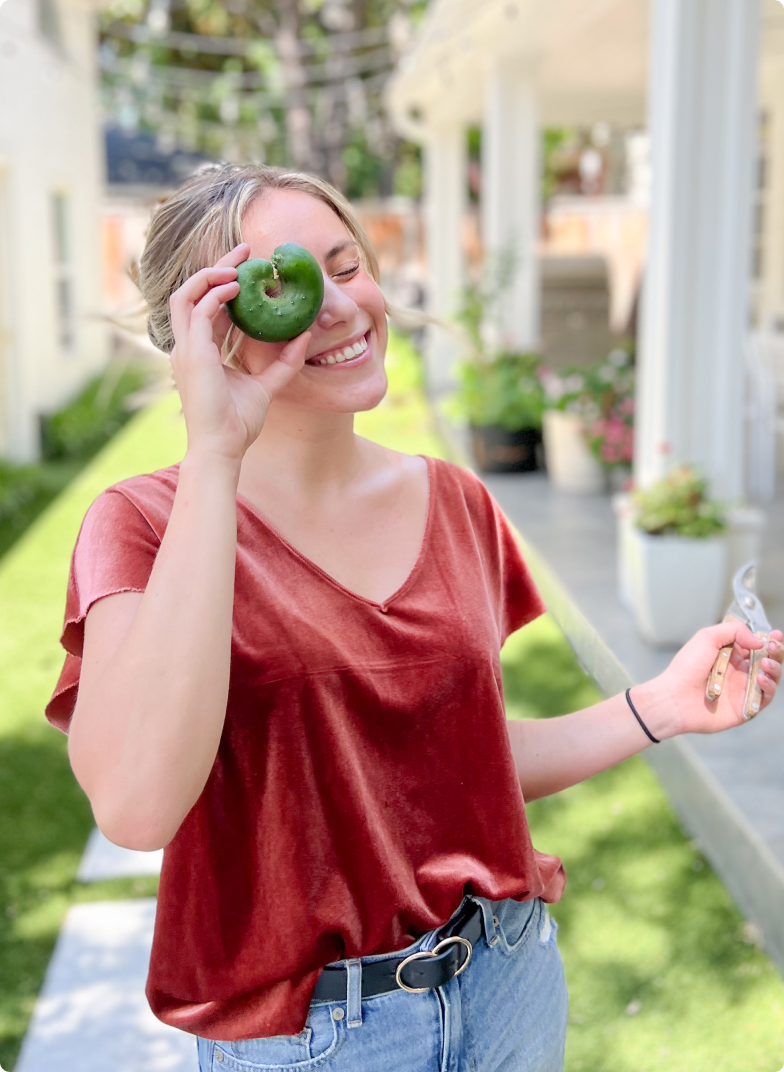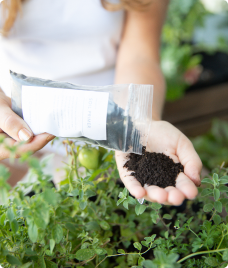 Gardenuity: the better way to grow
Garden Kit + Plant Collection matched to your geolocation
Grow Pro Experts to help you harvest results you deserve
Made Sustainably - No excess waste for you or the planet
Suitable for all ages and experience levels
Get growing, guaranteed
Join thousands of happy growers!